Hospital Ipoh

Hospital Raja Permaisuri Bainun
Ipoh, Perak
JKR has appointed G&P Professionals Sdn Bhd as a Civil, Structural and Geotechnical Consultant for the project.
Project Information:
The Woman and Child Block, Cardiology and Cardiothoracic Services consist of 1 block of 11-storey hospital building consists of 2 floors of car park and 9 floors of clinical podiums and wards.
A total number of beds is 400.
The project costs about RM300 Million.
Site possession was on 1st August 2013
Certificate of Practical Completion was on 5th August 2019.
Bored Piles had been adopted as foundation system.
Project Challenges:
The proposed building underlain by Limestone formation called Kinta Limestone.
Geotechnical challenges due to karstic features of limestone such as steep inclined bedrock, cavities, floaters, etc.
About 2200m3 of compaction grouting had been carried out to treat the cavities.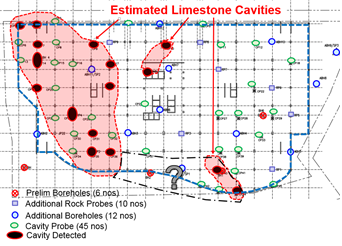 Bored Pile foundation had been adopted for main block:
900mm with Pile Working Load of 5500kN.
1050mm with Pile Working Load of 7500kN.
Bored Pile foundation had been adopted for PPU.
600mm with Pile Working Loads of 500kN (Type A), 1100kN (Type B) and 1600kN (Type C).
900m. m with Pile Working Load of 5500kN
2022
| | |
| --- | --- |
| Geotechnical Investigation and Slope Remedial Works Design | Geotechnical Investigation and Slope Remedial Works Design |
| Kepong Metropolitan Plot 7 (KMP7) | Foundation Design for Highrise Building |
| Batang Lupar 1 Cable Stayed Bridge – Compensation Pile Design | Geotechnical Design and Advice on Replacement Pile for Broken Pile 3P10 for Pier 3 |
| Altima Parcel Kuchai Sentral (Parcel 2) | Independent Geotechnical Review of Piling and Basement Excavation Scheme for Parcel 2 only |
| Site Inspection for Tmn TAR Slope | Geotechnical Inspection Report |
| 5 Lorong Bukit Pantai 3, Bangsar, Kuala Lumpur | Site Inspection & Expert Opinion |
| Plenitude Tebrau: P1920: P2C: Slope and Retaining Wall Repairing adjacent to Glenmaries Boundary | Geotechnical Input for Arbitration and Court Case |
| Geotechnical Review on Instrumented Test Pile Result for MKH | Independent Engineering Advisory On Basement & Foundation Design And Construction Documents |
| Bangi Estate North (SP Setia) | Full geotechnical consultancy services for proposed development |
| Detention Pond for Proposed Development at Lumut, Perak (Kar Sin Bhd) | Slope Stability Assessment Report |
| Sungai Langat Water Intake Structure – River Bank Works | Geotechnical Investigation and Remedial Design (Forensic Services) for the Retaining Structure near the River Banks |
| Stormwater Management and Drainage Master Plan Study for Putatan and Kinarut, Sabah | Geotechnical design for flood mitigation related elements |
| Independent Geotechnical Review of Foundation for Houses on Cut Ground | Independent Geotechnical Review of the Foundation of 1 Row of 6 Units Houses on Cut Ground |
| Independent Review on Terrain at Taman Beverly Heights, Ampang, Selangor | Independent Review on Terrain and Risk Classification |
| ECRL Section C2 (SI) | Proposal for Consultancy Service for Soil Investigation Work for Alignment Section C2 |
| Marang Bridge – ICE for Geotechnical Design | Independent Geotechnical Check on Marang Bridge design |
| Geotechnical Impact Assessment For Proposed Tower Crane Foundation | Geotechnical Impact Assessment Report for Proposed Tower Crane Foundation within Second Reserve Railway Protection Zone (RPZ) |
| Review of Collapse of Pier 2, Batu Kawan, Penang | Additional Consultancy Works for Permanent Structural Rectification Design of the Collapsed Pier 2 (for Replacement of Failed Pier at Same Location) and System for Removal of Existing Failed Foundation of Pier 2 |
| Proposed Development of New Labu and Labu Estate | Geological Terrain Mapping Report |
Toggle Content goes here
2021
| | |
| --- | --- |
| Projects Name | Scope |
| Rapid Transit System, RTS Rail Link | Civil & Structural and Geotechnical Consultancy Service |
| ICE Checker for 4 Blocks Service Apartments at Genting Highlands | Independent Geotechnical Checker for Building Plans Submission |
| Failure Investigation and Remedial Works Review of Damaged Pipe in Landslide Incident at Philippines | Failure Investigation and Remedial Works Review of Damaged Pipe In Landslide Incident |
| Landslide at Ulu Tinggi, Selangor | Independent Forensic Investigation on Collapsed Ground Platform with Slopes |
| Reclamation At Stulang Land, Johor | Geotechnical & Maritime Engineering Consultancy Services for Reclamation |
| Sydney Metro Bays Station Gamuda | Geotechnical Consultancy for Temporary Works of Station Excavation |
| The Quayside, JBCC | Geotechnical Consultant Service |
| Alleged Damage On Lot 620 Jalan Imbi, Kuala Lumpur | Geotechnical Expert Opinion and Witness for Court Case |
| KL Palace Court Condominium | Geotechnical Site Inspection |
| Sunway Monterez, Selangor | Investigation on Slope Failure & Site Inspection of Keystone Wall |
| Parcel B2 Replanning, Raffledia | Geotechnical Consultancy for Earthworks and Foundation at Hillsite Development |
| Sunway Wellesley Phase 3, Bukit Mertajam, Penang | 'Geotechnical Input for Ground Treatment Works |
| Queensville Bandar Sri Permaisuri, KL | Civil & Structural, Geotechnical, Mechanical & Electrical, Engineering Consultancy Services |
| Existing Building & Foundation Verification & Construction at Phase EG3A & 3B, Elmina West | Foundation Verification and Foundation Design for Low-Rise Development |
| Mont Kiara Genting | Civil, Structural, Geotechnical, Mechanical & Electric Consultancy Services for 50 acres |
| Soil Nailed Slope Failure Investigation At Kota Tinggi, Johor | Geotechnical Investigation & Geotechnical Review of Remedial Permanent Work Designs |
| Collapse of Batu Kawan Bridge Pier 2, Penang | Geotechnical Investigation on the Failure of Pier 2 During Construction & Geotechnical Remsdial Works Design for Foundation of Pier 2 Only |
| Phase 1 Pan Borneo Highway Sabah | Independent Consulting Engineer (ICE) for Phase 1 Pan Borneo Highway at Sabah |
| ICE for Gamuda Gardens (Plot C Phase 1-16, 1-17 & 1-18A) | 'Accredited Checker for Existing Slopes at Plot C and Overall Preliminary Geotechnical Design Report for KM Approval on an Approximately 80 acres of Hily Land at Phase 1-16, 1-17 and 1-18A |
| Review of Pile Capacity at Pier 2 Sg Bakas Bridge (Pan Borneo Sarawak) | Independent Geotechnical Opinion on Pile Capacity at Pier 2 of Sg. Bakas Bridge |
| GDR for PSR Island B | Geotechnical Design Report for Reclamation of Island B, Kebenaran Merancang (KM) Approval |
| Piled Raft Foundation of Terrace Houses Kampar, Perak | Plaxis 3D Modelling for Raft Foundation on One Block of Terrace Houses |
| RS Wall Taman Beverly Height, Selangor | Geotechnical Consultancy Service for Permanent Works of Reinforced Soil (RS) Wall of about 10m high and 100m length |
| Engineer Slope Inspection for Mansions, Parkcity | Geotechnical Inspection & Preliminary Opinion on the Slope Condition |
| Proposed Development On Lot 103000, Taman Connaught, Cheras, Kuala Lumpur | Planning of Confirmatory SI and Interpretation of SI Information |
| Investigation on National Housing Scheme of Brunei | Geotechnical Investigation & Expert Witness for Arbitration |
| Dam Safety Review for Tasik Subang Dam | Dam Safety Review |
| Safety Review of Sg. Langat Dam | Dam Safety Review |
| Slope Stability Assessment for Proposed Road, Sunway Wellness | Geotechnical Assessment of Slope Stability and Safety of Existing RE Wall |
| Slope Stability Review for Baleh Hydroelectric Project, Sarawak | Independent Geotechnical Review on Slope at Power Intake and Spillway |
| Wave Screen (IGV) | Reference Design & Tender Document Preparation for Wave Screen at Marina |
| RTS – Engineering Advices | Civil & Structural and Geotechnical Engineering Consultancy Advices |
| Genting Sky City (Phase 1) | Full Geotechnical Consultancy Service (Phase 1) |
| 1035 Acres Development at Ulu Langat | Full Geotechnical Consultancy Service |
| Proposed Development at Hamilton Estate (Plot 5 – 6) | Geological Terrain Mapping (GTM) Consultancy Services for KM Plan Approval |
| Alternative Design for TARC (Bored Pile & CBP Wall) | Alternative Design for Bored Pile Foundation and Contiguous Bored Pile (CBP) Wall |
| Slope Stability Review for BALEH (Below EL225) | Independent Geotechnical Review for Area "C" at EL225m and Below |
| Pergau Tunnel Strengthening Work | Additional Work Scope for Debris Removal and Strengthening Works for 145m High-risk |
| Geotechnical Impact Assessment Report For Proposed Sewerage Reticulation Within RPZ | Geotechnical Impact Assessment Report for Proposed Sewerage Reticulation within Railway Protection Zone (RPZ), along Jalan Bukit Bintang for the development of for Agile Tropicana Bukit Bintang |
| Geotechnical Opinion on Long Bored Pile at Batang Saribas | Independent Geotechnical Opinion on Constructability of Long Bored Piles in River Mouth Alluvium |
| Maharani Energy Gateway, Muar, Johor | Geotechnical & Maritime Consultancy Service for Reclamation |
| Rekabentuk Terperinci Rancangan Tebatan Banjir Sungai Raya, Negeri Sembilan | Detailed Design of Flood Mitigation Plan Sungai Saya, Negeri Sembilan |
| ECRL CEPCO Pile | Investigation on the Causes of Pile Damage |
| Wisma Chung De, Seberang Perai, Pulau Pinang | Civil & Structural and Geotechnical Engineering Consultancy Service |
| Plot 1 Development by Runnymede Group, Georgetown, Pulau Pinang | Full Geotechnical Consultancy Service for Plot 1 Development |
| Slope Design for Bukit Pelali Phase 3A, 3B & 3C | Geotechnical Consultancy Service for Permanent Slopes Design and Slopes Strengthening Works |
| 2 Blocks of Serviced Apartment & Retail Near Cochrane MRT Station | Geotechnical Consultancy Service |
| Terraces, Penang (IJM) Geotechnical Assessment Report | Slope Stability Analysis Report for Early Commencement Foundation Works Application |
| ICE Report for Gamuda Cove Phase 1A | Geotechnical Investigation on Cracklines/Settlement Issues of Affected Area |
| Batang Lupar 1 Cable Stayed Bridge | Geotechnical Review and Advice on Reduction of Rock Socket Size & Length for Piers 24 to 27 (Main Spans of Stayed Bridge) |
| Cheras Taman Connaught (CTC) | Full Geotechnical Consultancy Service |
| Transmission Line at Kedah Rubber City | Geotechnical and Geological assessment to be part of EIA assessment |
| EPCC of Bintulu Additional Gas Sales Facilities-2 (BAGSF-2) | Quotation for supplementary soil investigation and geotechnical assessment |
| Preliminary Tender Design of Ground Treatment Works at PMU 132/33kV Banting Central | Preliminary Tender Design of Ground Treatment Works |
| PMU Raub | Investigation, Remedial works & Advice for slope failure and settlement |
| Proposed Commercial Development On Genting 308 | Geotechnical, Civil & Structural Services for Major Infrastructures Work |
| Basement Seepage & Cracks at Summit Subang USJ | Site Inspection |
| PMU Bentong South Slope Remedial Works | Investigative SI, Temporary and permanent Remedial works |
| | |
2020
| | |
| --- | --- |
| Projects Name | Scope |
| Review of Preliminary Test Pile Result for M Arisa | Geotechnical Review of Preliminary Instrumental Test Pile Results (PTP1) |
| Bukit Jalil, Plot 1 (Sunway) | Geotechnical Consultancy Service |
| Second Trunk Road Project At Sarawak | Geotechnical Specialist Review for Ground Improvement Work |
| Soil Trewatment at Batu Kawan 2 (BKIP 2) | Proposal OnProfessional Fees and Supervision Charges |
| Residential Development At Block 13, Cyberjaya | Full Geotechnical Consultancy Services |
| Alternative Foundation Design for 2 Blok Pangsapuri Suites 57 Tingkat (799 unit) di Lot 772, 773 dan 774, Jalan Sentul Pasar, Setapak, Kuala Lumpur (M Arisa) | Full Geotechnical Consultancy Service on Alternative Foundation Design |
| 2T Depot At Gemas & Kempas, Johor | Main Engineering Consultant, Civil Infrastructure and Geotechnical Engineering Consultancy Services |
| Remedial Works At Nahara 2, Cogan 1 & Cogan 2 (BBR1) | Remedial Proposal |
| Review On TSK's Bungalow | Geotechnical Review On Geotechnical Design |
| Slope Rectification Work At Lots 47 & 48, The Peak, Taman Tar | Investigation of Slope Failure and Rectification Works |
| Proposed Development At Batu Kawan, Penang (30 Arcres) | Full Geotechnical Consultancy Service |
| Lembangan Sungai Bersepadu (IRBM) Sungai Besut, Tengganu | Hydrogeology and groundwater resources assessment |
| Repair Works for Drainage Box Culvert at B6 Road, Iskandar Puteri, Johor | Remedial Design for the Existing Distressing Drainage Box Culvert |
| Iskandar Malaysia BRT (IMBRT) | Geotechnical Consultancy Service of Busway Design for Skudai Line |
| Bandar Bukit Raja Plot I9B | Geotechnical Consultancy and Foundation Design on Soft Ground |
| Sunway Avila 2 (Jalan Seri Wangsa 2) | Geotechnical Consultancy Service |
| Investigation On The Causes Of Sinkhole In Aspira Park, Iskandar Puteri, Johor | Geotechnical Root Causes Investigation & Remedial Works |
| Tunnel Design Review (BBCC) | Independent Geotechnical (by Accredited Geotechnical Specialist) to Check for cut & Cover Tunnelling Works Design |
| Slope Review at Alstonia | Geotechnical Review of Slope Stability and Site Inspection of Adjacent Houses (2 units only) |
| Nirvana Ipoh | Civil Infrastructure,Geotechnical & Structural Engineering Consultancy Services |
| Development at Lot 107 (20009) Jalan Ampang, Kuala Lumpur | Independent Geotechnical Review |
| Redevelopment of Sri Damansara Club-Plot 2 Serviced Apartment | Geotechnical Consultancy Service |
| Gem Resi At Butterworth, Penang | Independent Geotechnical Assessment on Deviated Piles and Propose |
| Slope Failure Investigation and Remedial Design for Bersia HEP | Geotechnical Investigation and Slope Failure Remedial Design & Construction |
| Wellington (Plot 5) | Foundation Design Consultancy Services |
| L4-Plot F12, Sunway Iskandar | Geotechnical Study Services, Geotechnical, Civil & Structural Engineering Services |
| Kajang 2 (CP3) | Geotechnical Consultancy Services for Slope |
| Plot F MX-1 (MRCB) | Geotechnical Consultancy Services |
| 2T Gemas – Kluang ROB – Review | Review of Road-Over-Bridge (ROB) Ground Treatment Design for Section 1 to Section 3 (Blocks 1-8) |
| Lembangan Sungai Bersepadu (IRBM) Sungai Marang, Terengganu | Hydrogeological and geological study |
| Temporary Works Design for M6 Stage 1, Sydney Australia | Temporary Works Design for Strutting, TBM Launching, Pipe Roofing and Crane |
| Proposed Development On Hamilton Estate | Full Geotechnical Consultancy Service for KM Stage Only |
| Redevelopment of Sri Damansara Club-Plot 3 Serviced Apartment | Geotechnical Consultancy Service |
| Jalan Bukit Mewah 1, Taman Bukit Mewah, Kajang | Slope Failure Investigation & Remedial Works Proposal |
| Bluewater Pond | 'Geotechnical Investigation, Design and Construction for the pond |
| The Retaining Wall at Taman Mutiara, Gombak | Independent Geotechnical Expert Opinion on the Substantially of Two Reports |
| Review Excessive Settlement of Breakwater at Sg. Besut | Independent Opinion, Geotechnical Assessment and Arbitration Input on |
| Expert Opinion on construction works at Bestari Jaya | 'Expert Witness |
| Naga 3, Phnom Penh City, Cambodia | Alternative Basement & Foundation Design |
| Investigation on Slope Failure and Remedial Works, Bintulu, Sarawak | Geotechnical Investigation on Slope Failure and Remedial Works |
| Distress Investigation and Proposed Remedial Works at House No. 3 Jalan Putra | Distressed Investigation and Recommendations for Remedial Works |
| Soil Treatment for Phase 1 & 2 at PITP, Batu Kawan (PDC) | Ground Treatment to Soft Ground |
| Ground Settlement Review for NAZA TDDI | Independent Geotechnical Review of Investigation Report & Remedial Works |
| Terrace Villa at JIA Melawati | Geotechnical Consultancy Services For Infrastructure And Found Of Buildings |
| Sea Reclamation Work (100 Acres) In Melaka | Sea Reclamation Work |
| Proposed Reclamation For Seri Tanjung Pinang (STP 2) | Full Geotechnical Consultancy Service for Design & Build of Temporary Geotube Barrier along Perimeter of Reclamation |
| Nilai Medical Centre Extension | Civil Infrastructure, Geotechnical And Structural Engineering Consultancy Services |
| Investigation On Foundation At Nobleton Crest, Jalan U-Thant | Geotechnical Inspection and Investigation on Basement Leakage & Distresses |
| Proposed Genting Sky Development | Full Geotechnical Consultancy Service (Phase 2 to 4 only) |
| Landslide At The Banjaran Hotsprings Retreat, Ipoh, Perak | Geotechnical Investigation & Remedial Works |
| Rackson Reclamation, Pulau Pinang | Geotechnical & Maritime Engineering Consultancy Services for Reclamation of more than 100 acres |
| Pengerang Deepwater Terminal 3 (Phase 3) | Investigation into the Loss of Wave Screens into the Sea |
| Advisory Role On Study For The Alternative Source Of Water At Senai Airport City, Johor | Expert Opinion/Review/Advice |
| L&R Warehouse (Telok Panglima) | Geotechnical Consultancy Services |
| Lot 1636, Ukay Heights, Ampang | Geotechnical Consultancy Services |
| JKG ERA2, Segambut | Geotechnical Reviewof Static Load Test Results |
| Temporary Slope Stability Assessment for Nirvana Memorial Park, Penang | Temporary Slope Stability Assessment for Construction of 17m length Permanent Reinforced Concrete (RC) Wall |
2019
| | |
| --- | --- |
| Projects Name | Scope |
| Court Case for Irama Wangsa Piling Works | 'Time Fee for Attendance of Arbitration / Adjudication or Court Hearings |
| Preliminary Review on Piling Records – Nippon Express (M) Project, Shah Alam | Preliminary Review of Piling Records Dated From 4th October 2018 to 15th October 2018 |
| Slope Investigation at Rafflesia | Slope Failure Investigation and Remedial Works for Failed Area at Parcel A |
| Cyberjaya Lakeview | Foundation & Retaining Wall Design |
| Slope Strengthening Design for Affordable Homes at Teluk Kumbar, Penang | Slope Strenthening Design |
| Ground Settlement At COGAN | Independent Geotechnical Investigation |
| Tropicana Grande 2 | Full GeotechnicalConsultancy Service |
| Half Diamond Interchange at Setia Alam, Selangor | Geotechnical, Structural & M&E Consultancy Services for the Diamond Interchange |
| Hillsite Development at Paya Terubong, Penang | Full Geotechnical Consultancy Service |
| Tank Foundation Design for Two API 650 Storage Tank at Bintulu, Sarawak | Geotechnical Consultancy Services for Tank Foundation Design |
| Hospital Lawas, Sarawak | Geotechnical, Civil & Structural and Mechanical & Electrical Consultancy Service for 76 Bedded Hospital |
| Tower M (Lot L,M), Kuala Lumpur City Centre | Geotechnical Review and Alternative Design |
| Proposed Resident Development @SU3, Gombak | Geotechnical Specialist Consultancy Service for Infrastructure |
| Desa Melawati Phases 2 & 4 | Geotechnical Specialist Consultancy Service for Infrastructure |
| Wellington Plot 4, Wangsa Maju, Kuala Lumpur | Foundation Design Consultancy Services |
| Indonesia Ecooils | Geotechnical Review on Design of Ground Treatment and Foundation System |
| Vale Iron Ore at Lumut Plant | Forensic Investigation on Settlement Distresses of Pile Supported Rail Beams of Stacker/Reclaimer |
| Condo Development at Jalan Jelatek, Kuala Lumpur | Investigation into Causes of Settlements and Cracks of Adjacent Building and Expert Opinion |
| Bukit Kemuning Condominium | Civil Infrastructure, Geotechnical & Structural Engineering Consultancy Services |
| Sunway International School | Full Geotechnical Consultancy Service |
| Distresses on the Existing Drainage Box Culvert at B6 Road, Iskandar Puteri, Johor | Independent Checker Scope od Works to Determine the Cause of Failure on the Existing Drainage Box Culvert |
| Investigation of Water Pipe Failure in Klang | Geotechnical Investigation and Advice |
| Expert Opinion on Damaged Piles | Expert Opinion on the Causes |
| Expert Opinion on Building Settlement at Bandar Kundang | Expert Opinion on Monitored Building Settlement |
| Slope Maintenance Inspection and Geological Mapping for Parcel A Slopes, Rafflesia | Slope Maintenance Inspection and Geological Mapping for Parcel A Slopes Facing Parcel C5 (20 Units) |
| Master Replanning (Sepang) at Bukit Hitam, Puchong, Selangor | Geotechnical Consultancy Services for Advice on Conceptual Layout Planning and EIA Submission Requirements |
| Allevia @ Mont Kiara | Request For Fee Proposal ("RFP") To Provide Geotechnical Consultancy Services For Proposed Condominium Development On Lot 1597, Mukim Batu, Kuala Lumpur |
| Collapsed Wall at Kota Kemuming Hill, Kota Kemuning, Selangor | Expert Opinion on the Proposal Causation of collapse Wall |
| Remedial Works for Phase 1A at Teluk Rubiah, Perak (Vale) | Rail Relevelling Works On Settled Pile Supported Rail Beams (R2 and R3) Of Stacker / Reclaimer |
| Future Raising of RHT's Tailing Bunds at Klian Intan Mines | Engineering Consultancy Services for the Design of Raising the Existing Bunds at Klian Intan Mines |
| Collapsed Slope and Water Runoff at Mukim Tebrau, Johor | Geotechnical Investigation on Stability of Retaining Wall (about 500m long) and Remedial Works |
| Expert Opinion on Pile Movements at Batu Kawan (Jack-In Pile) | Expert Opinion Consultancy Services on Construction Problems of Foundation Pilesfor Industrial Factory Development over Soft Ground with Fill |
| Expert Opinion on Piles over Soft Ground at Jln Pintasan Cecil | Expert Opinion and Advice on Problems of Displaced Foundation Piles over Soft Ground |
| Investigation Cracks & Settlement Adjacent to Sewer Line at Tmn Merdeka, Melaka | Independent Investigation Into the Settlements and Cracks on Buildings Adjacent to the Proposed Sewer Line |
| Lawas Reservoir – Independent Assessment of Distressed Cut Slope | Independent Assessment of Distressed Cut Slope and Strengthening Design |
| Review on SEB Transmission Line Bunut – Medamit – Lawas | Engineering Review on Tower Foundations and Slope Stability |
| Penang South Reclamation (PSR) for Island A | Consultancy Services for Marine & Geotechnical Reference Design |
| Taman Equine Plot 2 | Full Geotechnical Consultancy Service on Foundation Design |
| Inspection & Remedial works for cracked Pavement at Hillpark 2 | Geotechnical Investigation & Remedial Proposal |
| Sunway SPK – Access Road | Geotechnical Consultancy Service |
| Service Apartment at Jln Kunyit & Jln Langkuas, Johor | Alternative Foundation Design |
| La Grande Kiara Condominium, Kuala Lumpur (Advisory Input) | Advisory Input |
| Proposed Development at KD10 | Geotechnical Consultancy Service |
| Pergau Tunnel Collapse | Geotechnical Services of Tunnel Collapse Assessment and Rehabilitation Work |
| Slope Strengthening and Remedial Works for Nirvana Bukit Mertajam | Geotechnical Consultancy Service for Slope Strengthening Works and Slope Remedial Works |
| Soil Treatmeent and Culvert Crossing/Bridge Crossing at Batu Kawan, Penang | Geotechnical Consultancy Service for Ground Treatment Works and Culvert Crossing Design |
| Geotechnical Review and Expert Witness for Cut Slope at Lot 11160, 16 Sierra, Puchong | Geotechnical Review and Expert Witness for Cut Slope |
| Expert Opinion on Kem Batalion 3, Bidor, Perak | Expert Opinion |
| Kwasa Damansara (Parcel A) | Geotechnical Input for RFP Submission |
| Review of Swimming Pool at Idamansara, Bukit Damansara, KL | Review of the Safety of Reinforced Soil Wall and Communal Swimming Pool |
| Proposed Sales Gallery At Plot 3 For Proposed Development At Bukit Nanas, Kuala Lumpur | Full Geotechnical Consultancy Service |
| Ampang Teratai – Height and Slope Analysis | Geotechnical Consultancy Service for Slopes Stabilisation Works |
| Existing Quay Assessment – MMHE | Engineering Consultancy Services For Assessment Of The Existing Quay In MMHE West Yard |
2018
Projects Name
Scope
Smart Tunnel Maintenance Depot Office at Tun Razak Exchange
Independent Geotechnical Review of Micropile Foundations
South Klang Valley Expressway (SKVE)
Due Diligence
Sabah Sarawak Gas Pipeline – Gas Leak
Expert Opinion
Geotechnical and Traffic at San Peng Lot PT1052 (HSD115367) Seksyen 54, Kuala Lumpur
Geotechnical and Traffic Consultancy Services
Proposed Bridge at One Foresta Development, Bayan Lepas, Penang
Full Geotechnical and Bridge Consultancy Services
Tapah Plant, Perak
Geotechnical & Hydrogeological Investigations for a) the impact of Quarry on the East side of Plant; b) the long-term impact on Deep & Shallow Foundation of the Plant with Quarry Extension on the North side of plant; c) Impact on stability of Overburden Dumping Area next to the Plant.
Proposed Autohaus on Lot PT26923 (HS(D).283015), Mukim Bukit Raja
Infrastructure, Geotechnical & Structural Engineering Consultancy Services
Proposed Butterworth Port, Penang
Reclamation, Maritime, Geotechnical and Hydraulics Study Consultancy Services
New Mine Pit Design, Pengkalan Hulu, Perak
Geotechnical and hydrogeology Consultancy Services for Mine Pit
Bandar Bukit Raja 2, R12A, R12B, R11A
Geotechnical Consultancy for Foundation
Brogaville, Semenyih
Geotechnical Consultancy for Infrastructure Works
Double Track Railway Project – Gemas to Kluang
Design on Earthwork, Ground Treatment, Foundation and Temporary Drainage
Glengowrie, Semenyih
Geotechnical Engineering Consultancy Services for Main Earthworks and Infrastructure
Knowledge Centre, Elmina West
Foundation Design for the Structure
Melaka Refinery Diesel Euro 5 (MRDE5)
Seismic Hazard Assessment and Geotechnical Interpretative Report (GIR)
Jade Hills Highzone and Road to Taman Sutera
Civil & Structural, Geotechnical and M&E Engineering Consultancy Services
TNB Reserve at Northern Boundary of Jade Hills
Civil & Structural and Geotechnical Engineering Consultancy Services
Setia Alam Sari Phase 9P1, 9P2, 9P4
Geotechnical Services for Civil and Structure
Lot 30353, Jalan 34/26, Wangsa Maju, Setapak, KL – Full Geo
Geotechnical Consultancy Services
Proposed Development on Lot 26690 Mukim Batu, Kuala Lumpur
Geotechnical Consultancy Services
Culvert Crossing at Lingkaran Cassia Barat, Batu Kawan, Pulau Pinang
Structural and Foundation Design for 1 Culvert
Warehouse for IKEA, Pulau Indah
Full Geotechnical Consultancy on Foundation & Ground Treatment Designs
Phase 8, Jade Hills
Geotechnical Consultancy Services
Marina, Lot 15739, Mukim 12, Daerah Barat Daya, Penang
Authority Submission For Marina, Design Review And Marina Guide Pile Detailed Design
Proposed Commercial Development for Mercedes Benz at Lot 168853, Bandar Parklands, Klang, Selangor
Infrastructure, Geotechnical & Structural Engineering Consultancy Services
Kepong Residence – Survey Plan & KM Submission Layout
Full Geotechnical Engineering Consultancy
Proposed Development at Lot 286, Opposite Tabung Haji, KL
Full Geotechnical Engineering Consultancy
Proposed Industrial Development at Shah Alam
Full Geotechnical Engineering Consultancy
Setia Ecohill 2
Full Geotechnical Engineering Consultancy for Infrastructure
Inspection of Swimming Pool at PV10 Platinum Lake Condominium, Setapak, Kuala Lumpur
Inspection of Soil Settlement And Cracks Of Swimming Pool
DAM Safety Review of Semenyih DAM 2018
Dam Safety Inspection & Review
Proposed Development On Site 1 – Ccb Mercedes Benz 3-S Showroom & Facilities At Lot 338, Jalan Sungai Besi
Civil & Structural and Geotechnical Engineering Consultancy Services
Proposed Development Site 2 – Extension Of 3S CV & 1S PC Facilities Including Carparks  To Existing Ccb Mercedes Benz Showroom At Jalan Perusahaan Satu/Dua, Batu Cave, Kuala Lumpur
Civil & Structural and Geotechnical Engineering Consultancy Services
Puncak Alam (MKH)
Preliminary Geotechnical Consultancy for Infrastructure
Sunway Medical Centre, Seberang Jaya, Pulau Pinang
Geotechnical Review of Foundations and Major Temporary Support System
Hyper Act Marketing (akta HAM) Blasting Incident
Earthwork Planning for Access Road Construction to Point D
Tilted House at No.6 Jln Impian 10B/KS7, Bdr Botanic, Klang (PH30)
(A) Geotechnical Investigation
(B) Expert Participation in Tribunal Hearing
Technical Advisory for TSGP and MPP
– Technical Advise On The Installation of Pipe for TSGP and MPP
Earthwork Planning for Access Road Construction Point D for Hyper Act Marketing
– Earthwork Planning for Access Road Construction to Point D
Proposed Design & Build for Jalan Tg Kupang, Gerbang Nusajaya and New Interchange including New Slip Road from PLUS Second Link Highway
– Tender Interview Questionnaire : Civil & Structural Consultancy Services (With Contract Management)
In The Matter Of Arbitration Between UEM Builders & Edgenta Propel (Claimants) And Ocned Water Technology (Respondent)
– Expert Witness
Wind Farm In India
– Preliminary Design On Onshore Wind Turbine Foundation for Two Bore Hole Locations
Hyper Act Marketing (akta HAM) Blasting Incident
– Additional Conceptual Design on Remedial / Reinstatement Works for Collapsed Junction of Access Road at Point D
Sunway Medical Centre @ Damansara
– Full Geotechnical Consultancy Service
Foundation Review at Taman Kuchai Jaya
– Independent Geotechnical Review of Piling for Phase 1 only
Ground Settlement Around 19 Units Of Terrace Houses At Bandar Bukit Raja I, Phase 15 (Nahara)
– Independent Geotechnical Investigation
Proposed Tg. Rhu, Pulau Langkawi, Kedah
– Pre-Consultation of Road Connection & Widening and Water & Sewerage
Proposed Development At Bandar Sri Ehsan (1200 Acres), Sepang , Selangor
Full Geotechnical Consultancy Services
Proposed 20MW Solar PV Project At Plot 11, A Portion of Lot 5 (Approx 72 Acres), Pekan Bukit Selambau, Daerah Kuala Muda, Kedah
Full Geotechnical Consultancy Services
Proposed Industrial Developments At Ipark, Sac, Mukim Terbau, Daerah Johor Bahru
Engineering Assessments / Investigation on Potential Impacts of Subsurface Ground Conditions at Parcel Platform for Parcels 1, 2 & 3
L3A Bukit Jelutong, Shah Alam
Full Geotechnical Consultancy Services
Solaris PARQ Plot B
Geotechnical Consultancy Service
Ujung Baru, Penang
Preliminary Geotechnical Consultancy Services
Geotechnical Input for 845 Acres Mixed Industry & Commercial Development at Bidor
Full Geotechnical Consultancy Services
2017
| | |
| --- | --- |
| Projects Name | Scope |
| Investigation of Collapsed Reinforced Concrete (RC) Wall and Review of Existing RC Wall for Kajang East, Semenyih, Selangor | Failure Investigation and Independent Design Review of Existing RC Wall |
| Proposed Development at Jalan Peel Land | Geotechnical Consultancy Service |
| Elmina East Innovation Gallery | Geotechnical Consultancy Services for Local C&S |
| Bangi Estate, Bangi Semenyih | Geotechnical Consultancy Services for Main Earthworks |
| Cadangan Pembangunan Di Atas Lot 48731 (PT45264) Mukim Petaling, Daerah Petaling, Selangor Darul Ehsan | Geotechnical Consltancy Services for Basement and Foundation Works |
| Proposed Apartment Development at Bukit Tunku, Kuala Lumpur | Geotechnical Consultancy Services |
| East Coast Rail Link – Bentong to Gambang, Pahang | Concept Geotechnical Design |
| Potential Development in Puchong Jaya, Selangor (170 Acres) | Subsurface Investigation (S.I) for Feasibility Study |
| Panel Checker for Proposed Development in Putrajaya and other Project Sites | Panel Checker Geotechnical Engineering Consultancy Services |
| Proposed Mixed Development at Jalan Bukit, Kajang, Daerah Hulu Langat, Selangor (MKH Boulevard 2) | Independent Geotechnical Review on Alternative Piling Design |
| Proposed Reclamation and Development of About 1005 Acres (407 Hectares) of Coastline Along Butterworth, Penang | Geotechnical & Maritime Engineering Consultancy Services for Preparation of Reclamation Masterplan |
| Gamuda Garden, Bandar Serai Development Sdn Bhd | Full Geotechnical Consultancy Services on Foundations |
| Wellington Phase 3, Wangsa Maju, Kuala Lumpur | Foundations Design Consultancy Services |
| Proposed Redevelopment at Lot 63, Jalan Gurney, Kuala Lumpur | Geotechnical Engineering Consultancy Services |
| Project Q plot 1, Taman Equine | Full Geotechnical Consultancy Service on Foundation Design |
| Condominium Development on Lot 1478, Taman Bukit Desa, Mukim Kuala Lumpur | Full Geotechnical Consultancy Services |
| Review on Existing Cast In-Situ Reinforced Concrete (RC) Wall For Kajang East, Semenyih, Selangor Darul Ehsan | Geotechnical Review for Cast In-Situ Reinforced Concrete Wall |
| Proposed Fertiliser Plant At Lot 1261, Jalan Tenaga, Section 66, Kuching, Sarawak | Full Civil, Structural. Geotechnical Engineering Consultancy Services |
| Langkawi Coastal Reservoir | Consultancy Services |
| Hanson Segamat Quarry | Consultancy service on Investigation into the Quality and Consistency of Basalt Aggregates, and check on the Available Reserve of the Gravels |
| East Coast Rail Link (ECRL) – SI | Technical Proposal for Lead Consultancy Service for Soil Investigation |
| Lot PT24, Jalan Pekeliling, Seksyen 47, Kuala Lumpur | Independent Geotechnical Review on proposed Foundation Design |
| Cadangan Jalan Sambungan Dari Persiaran Cassia Barat 3 Ke Lift Pump Station Di Atas Lot 282, Batu Kawan, Pulau Pinang | Geotechnical Engineering Consultancy for Ground Treatment Design |
| FEED Services for Kerteh 2 Project | Front End Engineering and Design of KERTEH 2 Project |
| Mixed Development on Lot 158, 159, PT12 & 163, Jalan Syed Putra,KL | Geotechnical Consultancy Service |
| Sunway Jalan Belfield, Kuala Lumpur | Geotechnical Consultancy Service |
| Review of HDD at KM4.8 Bkt Kayu Hitam, NSE | Geotechnical Engineering Review Consultancy Services |
| Police Headquarters at Bagan Datuk, Perak | Geotechnical Consultancy Service on Ground Treatment and Foundation |
| Monash University Southern Extension | Geotechnical Consultancy Service |
| Feasibility Study of Development of Taman Equine and Sungai Besi | Geotechnical Feasibility Study |
| Dreamhomes @ Cyberjaya – Phase 1 | Full Geotechnical Service |
| Proposed Pulau Indah Ring Road – Phase 3 | Ground Treatment Work |
| Proposed CP4 Development at Jade Hills, Kajang | Geotechnical Engineering Consultancy Service |
| Water Intake Structure, Tanjung 12, Sepang, Selangor | Foundation Design of Water Intake Structure |
| Phase 3 & 4, Queensbay Waterfront Development, Pulau Pinang | Geotechnical Engineering Consultancy Service |
| Condotel on Plot 5, Impression City, Melaka | Geotechnical Engineering Consultancy Services for Foundation Review & Remedy Design on Piles with Under-Capacity and Integrity Problems |
| Prinsitek Gombak Sentul Project at Jalan Dato Senu 3, Mungkim Setapak | Geotechnical Consultancy Service |
| Collapse of Land at 50 Jalan Taman Pantai, Pantai Hill, Kuala Lumpur | Assessment of Foundations |
| BBCC – Tunnels Connecting to Northen Boundary and Eastern Boundary | Independent Geotechnical to check for Tunnelling Works Design |
| Proposed Mercedes-Benz Pre-Owned Showroom at Bandar Kinrara, Selangor | Infrastructure & Structural Engineering Consultancy Services |
| Alternative Foundation Design – Genting Sempah | Alternative Foundation Design |
| Proposed Development at Bukit Nanas, Kuala Lumpur | Full Geotechnical Consultancy Service |
2012 - 2016
| | |
| --- | --- |
| Projects Name | Scope |
| Amaya Duta, Jalan Kuching, Kuala Lumpur | Geotechnical Consultancy Services |
| New Coal Stockyard Area at Tanjung Bin Power Plant, Pontian, Johor | Geotechnical Assessment |
| Proposed Development at Mukim Rantau, Seremban, Negeri Sembilan | Civil and Geotechnical Engineering Consultancy Services for Overall Civil Infrastructural Planning and Design |
| Eco Marina, Batu Kawan, Penang | Geotechnical & Maritime Engineering Consultancy Services for Reclamation |
| Independent Foundation Review of KL118, Kuala Lumpur | Geotechnical Investigation of Construction Bored Piles (137 Numbers) |
| Proposed Investigation Around Karpal Singh Drive Road and the Spring | Geotechnical Investigation of Settlement and Remedial Works Design for the Platform |
| Due Diligence Appraisal Study for Land Acquisition at Non-Aeronautical Area, Kuala Lumpur International Airport (KLIA) | Due Diligence Study |
| Rest And Service Areas- Phase 1 (Basic Amenities And Facilities) For The Jambatan Sultan Abdul Halim Mu'Azam Shah | Independent Checking Engineers (Accredited Checkers) for Geotechnical & Structures |
| Independent Inspection of Cracks at Vivacity Mega Mall, Tabuan Jaya, Kuching, Sarawak | Independent Inspection of 'Cracks' and "Cracklines' at Movement Joints |
| E3: Lebuhraya Laluan Kedua Malaysia-Singapura (Afiat Health Park, Nusajaya, Johor) | Independent Check Consultant (Geotechnical) |
| I-Parc Tanjung Pelepas, Johor | Geotechnical Investigation into Earthworks issues |
| Proposed Mixed Development on Lot 8596, 9514 & 9515 at Tanjung Karang, Kuala Selangor | Ground Treatment design for infrastructure works |
| Investigation Of Collapsed Type 3 Reinforced Concrete (RC) Wall and Review of Existing and Newly Proposed RC Wall (Type 1 � 4) for Hillpark Shah Alam, Daerah Kuala Selangor, Selangor | Failure Investigation and Independent Design Review of One Row of Retaining Wall (Type 1 – 4) |
| Cadangan Kerja Tanah Di Atas Lot 1022, 1023 & Lot 1779, Jalan Teluk Tempoyak, Mukim 12, Batu Maung, Daerah Barat Daya, Pulau Pinang Untuk Tetuan Vienna Home Sdn Bhd | Geotechnical Investigation into Extra ROCK Excavation Volume |
| Review of Tanjong 12, Daerah Kuala Langat, Selangor | Ground Treatment Design for Phase 1 (At Grade Section) |
| Service Apartments at Part of Plot PT 26768, Mukim Batu, KL | Geotechnical Consultancy Service |
| Proposed 3 Blocks of Affordable Apartments at Batu Ferringhi, Penang | Geotechnical Value Engineering |
| Plaza Phoenix Station Layby Facilities | Geotechnical Consultancy Service for Slopes, Retaining Walls and Foundation |
| Proposed Development at Section 7, Shah Alam | Geotechnical Consultancy Services |
| Foundation for 24 Units Shop Lots at Nilai Impian Phase 58 (NI58) | Foundation Design |
| Cut Slope At Lot PT 33484, Mukim Rawang, Daerah Gombak, Selangor | Investigation and Remedial Works for Lawsuit |
| Audit Report for PLUS Highway (Syabas) | Geotechnical Checker / Audit Report |
| Proposed Oxley Towers, KLCC, Jalan Ampang, KL | Alternative Foundation and Retaining Wall Design |
| AEON Maluri Project, Jalan Jejaka, Cheras Dalam Bandaraya Kuala Lumpur | Full Geotechnical Consultancy Service |
| Cadangan Pembangunan 2 Block Bangunan Pangsapuri Perkhidmatan 38 Tingkat FASA 1A, Jalan Segambut, Kuala Lumpur | Alternative Foundation Design Consultancy |
| Proposed Tod Development @ LRT Station 6, Puchong Jaya, Selangor | Civil & Structural, Geotechnical and Mechanical & Electrical Consultancy Services |
| Pembinaan Loji Rawatan Kumbahan Serantau Batu, Jinjang Kepong, Kuala Lumpur | Geotechnical Review on Deep Excavation |
| Elmina Green Phase EG4 & EG5 | Foundation Design |
| Highrise with 3 level Basement, Bukit Ayun, Penang | Full Geotechnical Consultancy for Highrise Towers with 3-levels Basement |
| Proposed Sandakan POIC Jetty, Sabah | Expert Advise and Review for Pile Foundation |
| Geotechnical Consultancy Services for Upgrading B18 (Jalan Bangi Lama) Adjacent to the proposed Development of Serene Heights, Semenyih, Selangor | Full Geotechnical Consultancy Services |
| Mixed Development at Persiaran Barat Section 52, Petaling Jaya, Selangor | Scope (A) – Building Inspection (MPC Building Only). Scope (B) – Geotechnical Review of Existing Retaining Wall Adjacent to Hotel Singgahsana and MPC Building Only. Scope (C) – Geotechnical Review of Remedial Measures to Stabilise Existing Retaining Wall Adjacent to Hotel Singgahsana and MPC Building Only. |
| Bukit Bintang City Centre, Kuala Lumpur | Geotechnical Checker & Value Engineering |
| Geological Assessment for the Linggi Bunded Storage | Geological Assessment on Pond Foundation |
| Promenade: Proposed Beach Terrace, Nusajaya, Johor | Geotechnical Consultancy Services for Retaining Wall and Reclamation of Platform of Proposed Artifical Beach Terrace |
| Apartments at Bukit Baru, Melaka | Alternative Foundation Design Consultancy |
| Tailing Dam Engineering for Tawau Gold Mine | Engineering Consultancy Services on Tailing Dam Design for Operational Tailing Storage (for Special Environmental Impact Assessment) |
| Setiakasih – Proposed High End Residential Project in Damansara Heights, Kuala Lumpur | Full Geotechnical Consultancy Services |
| Geotechnical Support for Preliminary SI for KL Metropolis – Site 5A | Geotechnical Support for Preliminary Soil Investigation |
| Artificial Beach at the Water Garden Promenade, Puteri Harbour, Iskandar Puteri, Johor | Geotechnical Consultancy Services for Retaining Wall and Reclamation of Platform of Proposed Artificial Beach Terrace |
| Foundation Design for 2.3km Sewer Line, Lingkaran Cassia Barat, Batu Kawan, Pulau Pinang | Foundation Design for 2.3km Sewer Line |
| Mixed Development on Lot 76354, Permatang Gaharu, Kawasan Sg. Soi/Sg. Belat, Bunut Rendang, Mukim Kuala Kuantan, Daerah Kuantan, Pahang | Geotechnical Design Review |
| Proposed CP1 (PT 71419) at Jade Hills | Geotechnical Consultancy Services for Shop lots |
| Proposed CP6 (PT 71606) at Jade Hills | Geotechnical Consultancy Services for Shop lots |
| Proposed Condominium Development on Lot 2357, Mont' Kiara, Mukim Batu, Kuala Lumpur (MK27) | Full Geotechnical Consultancy Service |
| Proposed Residential Development at Puchong Kinrara, Mukim Petaling, Kuala Lumpur | Full Geotechnical Consultancy Service |
| Nilai Impian 2 – SME Business Park | Full Geotechnical Consultancy Service |
| Proposed Residential Development Which Consists of One Tower Affordable Housing, One Tower Medium Range Housing and Podium Carpark at Lot 3582 ABD 3583, Mukim 18, Daerah Timur Laut, Pulau Pinang (FETTES PARK) | Civil & Structural and Geotechnical Consultancy Services |
| Cadangan Pembangunan Bercampur dan Pembangunan Skim 'Gated Community' Di Bawah Seksyen 6(A) AKTA 318 (AKTA Hakmilik Strata 1985) Di Atas Lot 1990, 1996, 25301 & 25310, Mukim Semenyih, Daerah Hulu Langat, Selangor | Geotechnical Review for Earthworks |
| Taman Danau Desa Condominium (SkyWorld Development) | Full Geotechnical Consultancy Service |
| Full Geotechnical Service for KL Metropolis – Site 5A | Full Geotechnical Consultancy Service |
| Development for Two Blocks of 50-Storey High Building on Proposed Site with Existing Telekom Building | Full Geotechnical Consultancy Service |
| SPJ Pan Borneo Project from Serian to Pantu (75KM) | Geotechnical Review and Alternative Geotechnical Design |
| Double Track Project from Gemas to Kluang (From Gemas Station to Kluang Station, Approx Imately 107KM) | Conceptual Geotechnical Design with Value Engineering |
| Proposed Penang SRS | Preliminary Update and Review of Geotechnical & Maritime Engineering Consultancy Services for Reclamation |
2011
| | |
| --- | --- |
| Project Name | Scope |
| Detailed Design Of Jambuk Estate Flood Mitigation Project | Detailed Design of Flood Mitigation Measures for Jambuk Estate |
2010
| | |
| --- | --- |
| Project Name | Scope |
| Lot 30351, Mukim Setapak, KL | Fee Proposal for Geotechnical, Infrastructure & Structural Engineering Consulting Services |
| Proposed Pantai Hillpark Phase 7 | Geological Site Terrain Mapping Report |
| Engagement Of Specialist Collaborator To Carry Out Catchment Modelling and Sediment Impact Assessment For Chenderoh Lake | Sediment Impact to Chenderoh Dam |
| Proposed Improvement Works to Alleviate Softground Problems (mushroom) between KM56.70-K56.15 (North Bound) KM56.15-KM55.40 (North Bound) & KM56.15-KM55.40 (South Bound) along Alor Setar to Sg. Petani Expressway, Section N2 | The Analysis, Design and Supervision of the Proposed Improvement Works to Alleviate Softground Problem at KM55.40 � KM56.70 (Both Bounds) Section N2 |
| Proposed Commercial Development on 4.31 ac in Setiawan, Perak. | Local Infrastructure, Structural and Geotechnical Consultancy Services. |
| Proposed Petrol Station at Bentong, Pahang | Full Civil, Structural and Geotechnical Consultancy Services |
| German Embassy in Kuala Lumpur | Civil & Structural and Geotechnical Consultancy Services |
| Proposed mixed dev. (Kajang Boulevard) on Lot 462 & 463, Bdr. Kajang, Daerah Hulu Langat, Selangor | Geotechnical Review for Foundation System & Full Geotechnical Consultancy for Earth Retaining System |
| Cadangan Membina dan Menyiapkan Blok Wanita dan Kanak-Kanak dan Pusat Kardiology Hospital Raja Permaisuri Bainon, Perak | Civil & Structural Engineering Consultancy Service |
| Soil Slopes at Sector E, Perdana Parkcity | Design of Slope Strengthening Works for Soil Slopes in Sector E (~400m long slopes besides the �Amelia� Development) with Reinforced Soil Wall Loading |
| Investigation and Monitoring of Failed Slope at Seremban, Negeri Sembilan | Geotechnical Consultancy Service for Geotechnical Investigation and Instrumentation Monitoring |
| Review of Sectors B & D, Perdana Parkcity | Independent Geotechnical Review of Rock and Soil Slopes and Existing Rubber Wall Stability in Sector B and Sector D of Parkcity Heights |
| Proposed Residential Development on 33.37 acres land at Lot 64487, Taman Equine, Mukim Petaling, Daerah Petaling, Selangor | Full Geotechnical Consultancy Services |
| Proposed Coal Mining (Coal Extraction and Transportation) and Rehabilitation of Mined Out Area at BC3 at Mulok (West) at Bukit Dinding, Mukah | Full Geotechnical Consultancy Service for Earth Filled Bund for Peat Retention |
| Proposed development at Jalan Robertson (2.942ac), Kuala Lumpur | Full Geotechnical Engineering Consultancy |
| Alternative Design for Sultan Yahya Bridge, Kelantan | Alternative Foundation Design |
| Geotechnical Inspection of Bungalow in Bukit Bandaraya, Kuala Lumpur | Independent Geotechnical Investigation |
| Independent Geotechnical Review of Existing Rubble Wall Stability in P5 of Parkcity Heights | Independent Geotechnical Review of Existing Rubble Wall Stability in P5 of Parkcity Heights |
| Expert Opinion on 13-Storey Building in Ampang | Expert Opinion & Witness |
| Sheet Pile Quay Wall for The Materials Off Load Facility (MOLF) at Sabah Oil & Gas Terminal Project (SOGT) | Alternative Geotechnical Design |
| HDPE Submarine Pipe Crossing at Batang Paloh, Bahagian Mukah, Sarawak | Full Consultancy for Analaysis, Design and Supervision of Submarine Pipeline & Ancillaries Works |
| Cadangan Pembangunan Sebuh Kompleks Perniagaan 2 Tingkat (Hypermarket) di atas Lot 16051, Mukim Sitiawan, Daerah Manjung, Perak untuk Tetuan Tesco Stores (M) Sdn Bhd | Alternative Foundation Design |
| Cadangan Pembinaan Ibu Pejabat Jabatan Bomba & Penyelamat Malaysia di Wilayah Persekutuan, Putrajaya | Alternative Geotechnical Design using Jack-in Spun Piles |
| Proposed Rehabilitation and Upgrading of Tambunan – Ranau Road | Full Geotechnical Design |
| MK 22 on Lots 1891 & 1892 | Geotechnical Consultancy Service |
| LEKAS Expressway, Kedah | Independent Geotechnical Engineering Checking |
| Lebuhraya Damansara Puchong – Proposed Enhancement | Alternative Bridge Foundation and Ground Treatment Design Approach Embankments |
| Slope protection advisory services – Land at Mukim Jesselton, Kota Kinabalu, Sabah | Slope Protection Advisory & Consultancy Services |
| Strengthening Works of RE Wall, Seksyen 7, Shah Alam, Selangor | Investigation and Remedial Works Design for RE Wall & Slopes |
| Proposed Setia City Mall | Alternative Geotechnical Design of Foundation System |
| Investigation into Slope Movement at Kawasan Perindustrian Rembia, Mukim Sg. Petai, Melaka | Geotechnical Investigation and Remedial Design of Slope Movement |
| Proposed Housing Development on Lot 1116, Mukim Dengkil, District of Sepang, Selangor | Full Engineering Consultancy Services |
| Hillsite Development in Mukim Bentong, Daerah Bentong, Pahang Darul Makmur (Boga Valley) | Full Geotechnical Consultancy |
| Membina Jambatan Kedua Sultan Yahya Petra, Kota Bharu, Kelantan | Geotechnical Review on Effect of Adjacent Piling Works on the Existing Bridge, Monitoring Scheme and Protection of the Foundation of Existing Bridge |
| Media City | Engineering Consultancy Services (One-Stop) |
| Proposed Developments at Seksyen 2, Bandar Batu Feringghi, D.T.L. Pulau Pinang | Rock Slope Mapping and Strengthening Works for a section of 60m and 8m High Rock Slope |
| Investigation into Vibration Problems at Mont Kiara | Geotechnical Assessment of vibration |
| Mixed Housing Development at Mukim Ampang, Daerah Hulu Langat | Full Geotechnical Consultancy |
| Proposed Development of new LCCT & Associated works at KLIA, Sepang, Selangor | Geotechnical Advice for LCCT Package 2 Earthworks |
| Integrated Environmental Monitoring Plan (IEMP) of Lojing, Kelantan | Full Geotechnical Engineering Consultancy |
| Geotechnical Assessment of Vibrations at N4-ROB2 (Jalan Berapit) | Geotechnical Assessment of Vibrations at N4-ROB2 (Berapit) |
| Engineering Consultancy Services for Ulu Jelai & Ulu Terengganu Hydroelectric | Full Engineering Consultancy for Civil & Structures, Geotechnical, Hydrology and Hydraulic Engineering Works |
| Proposed Mixed Development Project in Damansara Uptown – Phase II | Full Geotechnical Engineering Consultancy |
| Kota Bunyi Tailings Dam – Klian Intan Mine | Full Engineering Consultancy Services for Raising Kota Bunyi Tailings Dam by 10m |
| 3-Storey Shop Lots at Mukim Cheras, Selangor | Local Infrastructure, Structural and Geotechnical Consultancy Services |
2009
Project Name
Scope
Bund Stability, Seepage, Buoyancy for a Basement Excavation at Putrajaya Maritme Centre
Expert Witness & Arbitration
Slope Rehabilitation Works at KM30.4 NB (Linkedua) & KM 18.4 NB (NSE)
Geotechnical Consultancy Service
Cribwall & Slope at Taman Bukit Mewah, Kajang, Selangor
Geotechnical Investigation and Strengthening Design
Pantai Panorama Condominium, Kuala Lumpur
Site Inspection & Independent Geotechnical Advice
Cadangan Menaiktaraf Jalan Dari Persimpangan Bunga Chengkih Ke Persimpangan Lrpt Ke Sg Lembing (C04), Kuantan, Pahang
Independent Review of Ground Treatment Design
Wisma Prima at Jalan Sri Semanthan, Damansara Heights, Kuala Lumpur
Independent Geotechnical Review & Strengthening Works
Site Clearance, Earthworks, Retaining Walls and Drainage Work, Mukim Petaling, Daerah Petaling, Selangor (Arch Culvert)
Geotechnical Investigation into Cracked and Culvert
Pelangi Semenyih Phase 3, Selangor
Geotechnical Investigation & Remedial Works Design
Shell Bagan Luar Tank Installation
Geotechnical Consultancy Service
High Risk Slopes at KM 28.40 (Southbound) and KM30.00 (Southbound) of the Linkedua Expressway
Geotechnical Consultancy Service
Site Inspection at Parkcity Heights
Geotechnical Review of Slope Stability
Geotechnical Investigation & Remedial Works at Taman Bukit Segar
Geotechnical Consultancy For Strengthening and Remedial Works
Proposed Commercial Development on Lot PT 118177 Hakmilik H.S.(D) 126732, Bandar Botanic, Mukim Klang Daerah Klang Selangor Darul Ehsan
Alternative Geotechnical Design
Cracks at Brick Wall at the Residence Abutting I-Zen
Geotechnical Inspection and Opinion on Retaining Structures
Water Supply in Lanchang, Pahang
Geotechnical Consultancy Services
Proposed Yen So Development at Hoang Mai District, Hanoi, Vietnam
Geotechnical Consultancy Services
Proposed Mixed Development on Lot 2319 Mukim Beranang, Daerah Hulu Langat, Selangor
Geotechnical Consultancy Services
Geotechnical Inspection at Aman Sari 18 Development on Lot PT 50, Mukim Petaling, Daerah Petaling, Selangor Darul Ehsan for Messrs. Prestij Permai Sdn Bhd
Geotechnical Investigation & Remedial Works Design
Pump Station at Sunggala, Port Dickson, Negeri Sembilan
Independent Geotechnical Review of Temporary Sheet Pile Design
Foundation Design for RS Wall & RC Design for RC Capping for Bandar Sungai Pusu, Setapak
Geotechnical Consultancy for Design for RE Wall Foundation & RC
Coping
40 Storey Apartment at Jalan Tun Razak / Jalan Raja Muda Abdul Aziz, Kuala Lumpur
Alternative Geotechnical Design of Foundation System for Podium
Failure of Buildings at Bukit Cherakah, Shah Alam, Selangor
Expert Witness
Alternative Foundation Design for 4 Apartments, Mukim Sg. Buloh, Daerah Petaling
Alternative Geotechnical Design of Foundation System
Landslide at Wangsa 1, Bukit Antarabangsa, Ampang, Selangor
Geotechnical Investigation & Remedial Works Design
Mixed Development at Precint 10 and 12, Shah Alam
Geotechnical & Geological Consultancy Service for Geological Mapping and Stability Analysis
Proposed Mixed Development Project in Damansara Uptown – Phase II
Geotechnical Review Consultancy Service
Proposed Slope Rehabilitation Works at KM30.4 NB (Linkedua)
Geotechnical Consultancy Service
Proposed Construction of Hydrocarbon Storage and Distribution Facility at Tanjung Bin, Johore
Geotechnical & Maritime Engineering Consultancy Services for the Reclamation Works
Bungalow of Dato Seri Dr. Wong Yeon Chai at Taman Duta
Geotechnical Inspection Report
Penang Island Bay Resort
Concept to Full Geotechnical Consultancy Service
Cadangan Pelan Jalan Dan Peparitan Di Atas Lot 29 (PT 24374), Mukim Setul, Daerah Seremban, Negeri Seremban
Expert Withness & Geotechnical Investigation into Wall Failure
Geotechnical Design for Slopes & Retaining Structures of Taiping Portal (Double Track)
Geotechnical Design of Slopes and Retaining Structures
Proposed Geotechnical Consultancy Services For Slope Stability Of A9 Road (Ch775 To Ch1268) And Ppu At Damansara Perdana
Geotechnical Consultancy Services
Advice on Foundation on Bus Terminal at Bandar Tasik Selatan
Geotechnical Alternative Design of the Slip Roads 3 & 4
Perdana Parkcity – Design of Soil & Rock Slopes in Sector C & E
Design of Soil & Rock Slope Strengthening Works in Sector C & E
Geotechnical Investigation & Remedial Works for the Bungalow of Dato Seri Dr. Wong Yeon Chai at Taman Duta, 50480 Kuala Lumpur
Geotechnical Investigation & Design of Remedial Works for Reinforced Soil Walls (Three Sides) & Raising of the Platform at One Side of the Wall
Econpile Kenangan Wholesale City CBP Wall Collapse & Third Party Damage At Jalan Merlimau, Kuala Lumpur
Independent Geotechnical Investigation
Mayfair Basement 5, Penang
Geotechnical Advice on Leakage/Seepage of Basement
Housing Development at Taman Desa, Kuala Lumpur
Independent Geotechnical Review Report� (ICE Report for DBKL)
15 Bungalows at the Peak, Taman TAR
Geotechnical Engineering Consultancy Service For Hill Site
Commercial Development at Lot 38289, Jalan SS6/3, Bandar Petaling Jaya (Jack In Spun Piles Alternative Design)
Full Alternative Geotechnical Design using Jack-in Spun Piles
Geotechnical Inspection into building cracks at Kota Malim Prima, 35900 Tanjung Malaim, Perak Darul Ridzuan
Geotechnical Inspection and Investigation
Proposed Commercial Development On Lot Pt 118177 Hakmilik H.S.(D) 126732 Bandar Botanic, Mukim Klang, Daerah Klang, Selangor Darul Ehsan (Phase 2)
Geotechnical, Structural and local Infrastructure Engineering Consultancy Services
Projek Pembaikan Cerun-Cerun Jalan Tamparuli-Ranau KM79, Sabah
Sub-Consultancy Agreement on Slope Rehabilitation Work
Earthworks contract for building & parking – LCCT Extension
Full Geotechnical Consultancy Service for Earthworks & Ground Improvement Works
Investigation on Slope Erosion at Pulau Gaya, Sabah
Consultancy Service for Geotechnical Investigation & Overall Slope Stability Assessment & Remedy Works for Three Failed Slopes
Cadangan pembangunan 2 blok pejabat industri 9 tingkat di atas 7 tingkat podium pejabat industri, ruang pameran, tempat meletak kenderaan & kemudahan awam di atas Lot 76 Jln. Semangat, Seksyen 13 Petaling Jaya, Selangor untuk Plaza 33 Sdn Bhd
Alternative Geotechnical Design using Jack-in Spun Piles
Residents Appeal on Tan Jit Seng, Penang
Geotechnical Review on Analysis & Design of Hillsite Development Adjacent to Solok Tan Jit Seng
Expert Witness on Embankment Failure in Bandar Puncak Alam, Selangoror
Expert Witness
Investigation into Failure of 100m Road Beside Setia City Mall (66ft Haul Road at Precint 1, Hummock Estate, Bukit Raja)
Geotechnical Review of the Remedial Works
�Collapse of boundary in Taman Bukit Pantai, Kuala Lumpur
�Independent Geotechnical Advice
�Plot 7, Sepang Gold Coast
�Value Engineering Consultancy Service
�The Extraction, Transportation and Rehabilitation of Coal at Area BC1-B with Extension to BC1-C, Ulu Sikat, Mukah, Sarawak
�Geotechnical Investigation into Bund Failure
�MK 20 Commercial Development
�Full Gotechnical Consultancy Service
�Two 24 Storey Condominium with 3 Storey Carpark, Taman Gembira, Kuala Lumpur.
�Foundation Design of Condominium and Carpark
Investigation of Pipe Support Movements at Eastern Bank of Sg. Buloh of Johore Port, Johore
Revised Consultancy Proposal
Expert Opinion on Viability of Dynamic Compaction Method at Lots 1217, 1218, 1225, 1226 & 1227, Mukim Hulu Kelang, Daerah Gombak, Selangor
Expert Opinion on Vaability of Dynamic Compaction Method
Pangkor Laut Second Home
Preliminary Geotechnical Consultancy Service for EIA
Independent Geotechnical Review in Sectors B & C in Desa Parkcity
Independent Geotechnical Review of Slopes Stability
Mixed development at Kajang (K24 & K25)
Full Geotechnical Engineering Consultancy Services for Infrastructures works for New Lyout & Foundation for Buildings.
Proposed 1 Block of 24-Storey Apartment And 1 Block of 24-Storey SOHO at Equine Park for Naza TTDI
Civil & Structural Consultant
Gated Community of Bungalow & Semi-Deteched Houses at Mukim Hulu Klang, Daerah Gombak
Alternative Geotechnical Consultancy Services for the 18 units of Bungalows, 6 units of Semi-Deteched Houses & Perimeter RC Retaining Wall (Section 3)
Investigation into the soil nailed slope failure at Maktab Rendah Sains MARA, Bentong, Pahang
Geotechnical Investigation into the causes of the Landslide
Mengkuang Dam Extension, Pulau Pinang
Full Geotechnical Consultancy Services for Temporary Cofferdam, Tunnel Portal & Advise on Grouting Works
Proposed Geotechnical Consutancy Service for Basement and Foundation for Phase I & II of Platinum Park
Chronological Event of G&P's Consultancy involvement in Platinum Park
Geotechnical Review of Foundation & Basement Works at Lot 248, Off Jalan Ampang, Kuala Lumpur
Independent Geotechnical Review & Full Geotechnical Consultancy Services with Value Engineering
Jesselton Hills at Kota Kinabalu, Sabah
C&S, Quantity Surveying & Geotechnical Engineering Consultancy Services for Main Infrastructure Works
Permohonan Kebenaran Merancang bagi tujuan tukar syarat secara serentak di bawah Seksyen 124A Kanun Tanah Negara di atas Lot 1336, 1337, 1338 & 1339 Mukim Rawang, Daerah Gombak, Selangor untuk Tetuan Rentak Arena Development Sdn Bhd
Independent Geotechnical Review Report
Proposed Saiwai Land Tower, Lorong Yap Kwan Seng, Kuala Lumpur
Structural (included MASMA Submission) & Geotechnical Consultancy Services
Proposed 690 Units Condominium at Parcel C Armanee Terrace, Damansara Perdana
Full Geotechnical Engineering Consultancy Services
2 Blocks of 19-storey condominium with 4 levels of carpark at Mukim Cheras, Kuala Lumpur
Alternative Geotechnical Design for the Foundations
�Proposed Geotechnical Consultancy Services For Slope Stability Of A9 Road (Ch775 To Ch1268) And Ppu At Damansara Perdana
�Geotechnical Consultancy Services
�Proposed 2nd Bridge Load Out Jetty at Batu Kawan, Penang – Investigation into the pile damage
�Geotechnical Investigation Into A Pile Damage
�Advice on Foundation on Bus Terminal at Bandar Tasik Selatan
�Geotechnical Design of the Slip Roads 3 & 4
�Perdana Parkcity – Design of Soil & Rock Slopes in Sector C & E
�Design of Soil & Rock Slope Strengthening Works in Sector C & E
Geotechnical Investigation & Remedial Works for the Bungalow of Dato Seri Dr. Wong Yeon Chai at Taman Duta, 50480 Kuala Lumpur
Geotechnical Investigation & Design of Remedial Works for Reinforced Soil Walls (Three Sides) & Raising of the Platform at One Side of the Wall
Econpile Kenangan Wholesale City Cbp Wall Collapse & Third Party Damage At Jalan Merlimau, Kuala Lumpur
Independent Geotechnical Investigation
Mixed development at Kajang (K24 & K25)
Full Geotechnical Engineering Consultancy Services for Infrastructures works for New Lyout & Foundation for Buildings.
Proposed 1 Block of 24-Storey Apartment And 1 Block of 24-Storey SOHO at Equine Park for Naza TTDI
Civil & Structural Consultant
Gated Community of Bungalow & Semi-Deteched Houses at Mukim Hulu Klang, Daerah Gombak
Alternative Geotechnical Consultancy Services for the 18 units of Bungalows, 6 units of Semi-Deteched Houses & Perimeter RC Retaining Wall (Section 3)
Proposed Geotechnical Consutancy Service for Basement and Foundation for Phase I & II of Platinum Park
Chronological Event of G&P's Consultancy involvement in Platinum Park
Jesselton Hills at Kota Kinabalu, Sabah
C&S, Quantity Surveying & Geotechnical Engineering Consultancy Services for Main Infrastructure Works
Permohonan Kebenaran Merancang bagi tujuan tukar syarat secara serentak di bawah Seksyen 124A Kanun Tanah Negara di atas Lot 1336, 1337, 1338 & 1339 Mukim Rawang, Daerah Gombak, Selangor untuk Tetuan Rentak Arena Development Sdn Bhd
Independent Geotechnical Review Report
Proposed Saiwai Land Tower, Lorong Yap Kwan Seng, Kuala Lumpur
Structural (included MASMA Submission) & Geotechnical Consultancy Services
Proposed 690 Units Condominium at Parcel C Armanee Terrace, Damansara Perdana
Full Geotechnical Engineering Consultancy Services
2 Blocks of 19-storey condominium with 4 levels of carpark at Mukim Cheras, Kuala Lumpur
Alternative Geotechnical Design for the Foundations
2008
| | |
| --- | --- |
| Project Name | Scope |
| Proposed Development of Double Storey Research and Development Center at Lot 471, Mukim Temenggor , Daerah Hulu Perak, Perak Darul Ridzuan For Messrs M.K.N. Group Sdn Bhd | |
| Slope Failure Investigation at UKM | |
| Proposed Commercial Development on Lot 1881 and 1882, Kuala Lumpur – MK 20 | |
| Proposed Service Apartments at Jalan Pahang, Seksyen 47, Kuala Lumpur | |
| Proposed Mixed Commercial Development of Solaris 3 on a 18.75 Acres Land Comprises of Office Blocks, Serviced Apartments & Hotel, Shop Offices, Retail Spaces with Overhead Retail Link Bridge to Neighbouring Development & Basement Carpark | |
| Failure of Retaining Wall at Factory Lot in Kuala Lumpur | |
| Collapse of Part Adjoining Wall, Oakland Industrial Park, Seremban, Negeri Sembilan | Geotechnical Investigation & Advice |
| Development on Lots 54542-54555, Mukim of Kuala Lumpur, Wilayah Persekutuan | Geotechnical Consultancy Services |
| Reclamation at Gurney Drive, Penang | Geotechnical Consultancy Services |
| Sepang� Distribution Centre | Geotechnical Consultancy Services |
| Slope Failure at Boundary of Taman TAR 2 Project Site, Lot 11639 | Geotechnical Investigation & Remedial Works |
| Redevelopment At Jalan 225,Sungai Way,Petaling Jaya | Geotechnical Consultancy Services |
| Sink Hole & Depression Areas Along Transition Between Terminal Yard and Berth Area from Berth 7 to Berth 10 (Phase II) | Geotechnical Consultancy Services |
| Foundation Strengthening Works for Wisma Matex, Johor Bahru, Johor | Geotechnical Review Consultancy on Foundation Strengthening Design |
| Inspection & Expert Opinion for Lot 10932-10936, 10939-10944 & part of Lot 10916 & 13100 Mukim Gali, Daerah Raub, Pahang | Geotechnical Site Inspection & Expert Opinion |
| Wisma Prima at Jalan Semanthan, Damansara Heights, Kuala Lumpur | Geotechnical Review & Geotechnical Site Inspection |
| Pulau Indah Ring Road | Geotechnical Consultancy Services Supporting Lead Consultant |
| Puan Sri�s House at Bukit Tunku, Kuala Lumpur | Geotechnical Consultancy Services |
| Bridge Foundation at Kg. Melayu Subang, Daerah� Petaling, Selangor | Alternative Design of Bridge Foundation |
| Landslides at Bukit Antarabangsa | Geotechnical Consultancy Services |
| Independent Geotechnical Review and Remedial Works for TTDI Hills Development | Geotechnical Investigation, Review and Remedial Works |
| Defects & Damages at Block G of Petronas Research & Scientific Services Sdn Bhd | Geotechnical Consultancy Services |
| Highrise Development Condominium at Setapak, Kuala Lumpur | Independent Geotechncal Review of Foundation |
| Arbitration between Dewan Perniagaan Melayu Malaysia Kuala Lumpur vs Government of Malaysia | Expert Witness & Arbitration |
| Landslip at Lot 1596, Geran 49811, UK Heights, Ulu Klang, Selangor | Geotechnical Consultancy Services for Slope Strengthening Works |
| Vila Sri Ukay, 6 �� Mile, Hulu Kelang, 68000 Ampang, Daerah Gombak, Selangor | Geotechnical Site Inspection |
2007
| | |
| --- | --- |
| Project Name | Scope |
| Dam monitoring at Putrajaya | Geotechnical Advise on monitoring results |
| Proposed Immediate Works to cut slope failure at KM30.0 NB, Linkedua Expressway | Geotechnical Consultancy for the investigation and design of remedial works for the failed slopes |
| Investigation on Wall Collapse | Investigation of wall failure |
| Consultancy Services for remedial works of slope failure at ML 119, Segamat Regional Office, PGB-TOD | Slope Failure and remedial design |
| Proposed Rehabilitation of Slopes at North South Expressway (Linkedua KM19.3NB) | Geotechnical Consultancy for the investigation and design of remedial works for the failed slopes |
| Slope and failure related to project Jalanraya Simpang Pulai-Lojing-Gua Musang-Kuala Berang along the proposed road for Aring to Jambatan Pasir Pulau, Terengganu | Second opinion on Failed Slope Investigation |
| Geotechnical investigation and remedial work for the collapsed slope at existing water tank, Taman Bukit Kepayang Phase M, Negeri Sembilan | Investigation of slope failure & remedial work |
| Cadangan Pelan Susunatur Pembangunan Perumahan Dan Perniagaan Di Atas Lot 1116 (Tanah Pemberimilikan Kerajaan), Mukim Dengkil, Daerah Sepang, Selangor Darul Ehsan | Full Geotechnical Consultancy for Pond Reclamation |
| Proposed Development of Hijauan Cheras | Full scope consultancy for Hill-Site Development |
| Geotechnical Review of All Wall Types on Lots PT 5425 (Parcel E) & PT 5427 (Parcel F), Bukit Segar, Kuala Lumpur | Geotechnical review of Retaining wall stability |
| Expert Opinion on the Failure of the Box Culvert | Expert opinion on failure of box-culverts |
| Kerja-Kerja Cerucuk and Sub-Struktur untuk Cadangan Pembangunan di atas Lot 29510, Jalan Tun Mohd Fuad //Jalan Tun Mohd Fuad 4, Mukim Kuala Lumpur, Wilayah Persekutuan | Alternative foundation design |
| Cadangan Pembangunan 33 Unit Rumah Teres dan 94 Unit Rumah Berkembar 2 tingkat di atas Lot 188, Mukim Cheras, Daerah Hulu Langat, Selangor Darul Ehsan untuk Tetuan Regal Form Sdn Bhd | Geotechnical Consultancy for Hill-Site Development |
| Geotechnical review of mosque at Pangkalan Tentera Udara Diraja Malaysia Sungai Besi Mukim Bandar Kuala Lumpur | Geotechnical Review of foundation |
| Proposed Tengah Garden, Langkawi For Anders Hagstorm, Richard Curtis and Narelle | Full Geotechnical Consultancy for Residential� Development |
| Certification and Supervision of Construction of KM32.6SB | Geotechnical Consultancy for the investigation and design of remedial works for the failed slopes |
| Mixed Development on Lot 1352,1402,1403,1404,1406,1684,1408,1409,1410 & 1411 at Kajang Silk Highway (SunwayMas S/B) | Full scope consultancy for Hill-Site Development |
| Port of Ehoala, Madagascar (Geotechnical Review & Secondment of Site Geotechnical Engineering) | Geotechnical Review of Quay Wall |
| Cadangan Pembangunan (Fasa 2) Perumahan di atas Lot 2259, Mukim Kajang, Dearah Hulu Langat, Selangor (D-Hill S/B) | Geotechnical Review for Hill-Site Development |
| Upgrading Works of Keningau-Kimanis Road, Sabah – Slope Failure, Depression to Road Pavement and Drains, Cracked/Tilting to Reinforced Concrete Wall Investigation at CH42+125 to CH42+300 | Geotechnical Investigation On Slope Instability And Distressed Retaining Wall |
| Proposed 16 Storey Office Wwith 3 levels of Bbasement in Subang Jaya | Review For Basement Excavation |
| Investigation into the tilting of driven piles at Dataran Pahlawan Phase II Melaka | Investigation Into The Tilting Of Piles During Excavation For Pilecap |
| Design, Construction and Installation of 40,000 Ton Loadout Tracks and Associated Works for Malaysia Marine and Heavy Engineering Sdn Bhd, Pasir Gudang, Johor | Full Civil & Geotechnical Consultancy Services |
| Alternative design for Cadangan pembangunan 3 blok pangsapuri 43 tingkat at Lot 451, Seksyen 67, Jalan Kiara 1, Kuala Lumpur | Alternative Foundation Design For Value Engineering |
| Proposed Highrise Condominium At Jalan Kurau, Bangsar, Kuala Lumpur | Full Geotechnical Consultancy For Residential Condominium With Basement At Hill Site |
| Remedial Design For Retaining Walls At Parcel E & F Of Bukit Segar, Cheras, Kuala Lumpur | �Geotechnical Review And Remedial Solution For Slopes And Walls |
| Proposed Mixed Development on Approximately 366 Acres at Kajang Height, Selangor-Access Road From Silk Highway | Geotechnical Consultancy Service For Wall, Slope And Bridge Foundation Of Road Project |
| Cadangan Pembangunan Perdagangan di atas Lot 1883 & 1884 Jalan Mon't Kiara, Mukim Batu, Kuala Lumpur | Full Geotechnical Consultancy For Highrise Development With Deep Basement |
| Proposed 1 Block Of 33 Storey (103 Units) Condominium At Lot 100 & 101, Seksyen 43, Persiaran Lidcol, Off Jalan Yap Kwan Seng, Wilayah Persekutuan Kuala Lumpur | Geotechnical Consultancy Service For Foundation And Basement At Limestone |
| Kelantan Flood Mitigation | Full Engineering Consultancy Services For Flood Mitigation And Maintenance Scheme And Water Quality Improvement |
| Widening of Penang Bridge | Geotechnical Specialist Review Of Foundation Design And Construction |
| Proposed 100 feet Road & Drainage Works (Masteron Site to Highway) for Infrastructure Cost Sharing Joint Venture Party (JV) on the land to serve the Development for Green Crescent Resources Sdn Bhd, Aspek Analisa Sdn Bhd & HK Land Sdn Bhd | Geotechnical Design For Rised RS Wall Embankment |
| Berembang Ampang New Town Development Project | Full Scope Geotechnical Consultancy Service For Highrise On Limestone Foundation |
| Reinforced Earth Structure 1 at UiTM Project on Lot PT1567 & Lot PT1658, Kumim Jeram, Daerah Kuala Selangor, Selangor | Geotechnical Investigation Of Wall Failure And Remedial Works Design |
| Proposed Second Penang Bridge – Geotechnical Review And Advice on Preliminary Pile Design and Installation | Inspection of preliminary test piles and advice |
| Proposed Development For Hunza Properties (Penang) Sdn Bhd – Alternative Foundation using Spun Piles | Alternative foundation design |
| The Construction and Completion of Main Drainage Works for Pembangunan di atas Lot PTB 20704 HS(D) 257219, Mukim Bandaran, Daerah Johor Bahru, Johor | Investigation of failure of culvert |
| Slope Failure At Raub | Investigation into the failure and advice |
| Cadangan Pembinaan 74 Unit Rumah Teras Dua Tingkat (24'x75′) Diatas Lot PT32564-32637 Dan Sebuah Pencawang Elektrik Diatas Lot PT32563, Fasa 2E, Putra Heights, Mukim Damansara, Daerah Petaling, Selangor | Geotechnical design of foundation |
| Proposed Bungalow Lots with Slope Problem for Parcel E, Bukit Segar, Cheras, Kuala Lumpur | Geotechnical design for slope stabilisation retaining wall and foundation for hill side development |
| Cadangan Pembinaan Rumah Teres Di Fasa 4A (58Unit) and 4B (66 Unit) Di Atas Sebahagian Lot PT20294, USJ Heights, Mukim Damansara, Daerah Petaling, Selangor | Geotechnical design of foundation |
| Redevelopment Of Three Old Bungalows Into Six Bungalows At Ukay Heights, Selangor | Geotechnical consultant for hill site development |
| Kebenaran Merancang Bagi Pertapakan Kepada Bangunan Pulau Banding Resort Sedia Ada, Pulau Banding, KM35.8. Lebuhraya Timur-Barat, Daerag Gerik, Perak Daurl Ridzuan | Geotechnical service for hill side development with pond |
| Proposed Development On Lots 584, 585, & 599, Mukim Ulu Klang, District Of Gombak, Selangor Darul Ehsan | �Geotechnical Design For Hill Site Development |
| North-South Expressway – The Design for the remedial works to alleviate soft ground problems (mushrooming) at KM 46.7 and KM71 | �Geotechnical Design Of Remedial Works For Soft Ground |
| Proposed Development Of 1 Block of 20-25 Storey Services Apartment At Desa Melawati | �Full Geotechnical Consultancy Services For Highrise |
| 10 Units Of Cooling Towers At ABF Bintulu | �Tender Design Of Foundation |
| Proposed Development At Parcel 1 (H) Of Section 51A, Bandar Petaling Jaya, Selangor Darul Ehsan | Design Review Of Foundation And Basement Design |
| Investigation On Collapse Of Complex Tourism In Pulau Banding, Gerik, Perak Darul Ridzuan | Member Of Independent Board Of Inquiry |
| Proposed One Block Of 50-Storey Office Structure With 6-Storey Podium And 3-Storey Basement (Phase IV, 2.88 Acres) At Seksyen 63, Lorong Stonor, Bandar Kuala Lumpur Untuk Tetuan TTDI Development Sdn Bhd | Full Geotechnical Consultancy For Highrise With Basement In Limestone Formation |
| Design Checker for Storage Tank Foundation at Tanjung Langsat Port, Johor | |
| Development Of Four Bungalows At Bukit Tunku, Kuala Lumpur | |
| Proposed Mixed Development On Approximately 270 Acres At Kajang, Selangor Darul Ehsan | |
| Cadangan Membina & Menyiapkan Bangunan Ibu Pejabat Suruhanjaya Tenaga di atas Lot 2C15, Precinct 2, Daerah Putrajaya, Wilayah Persekutuan Putrajaya | |
| Thach Ban New City, Hanoi, Vietnam | |
| Proposed Development At No. 12, Jalan Kapas, Bangsar, Kuala Lumpur | |
2006
| | |
| --- | --- |
| Project Name | Scope |
| The Proposed 5.4 Acres Office Development at Damansara Perdana | Value Engineering option for foundation & retaining walls |
| Pipebridge Failure at Pulau Indah | Investigate failure of pipebridge |
| Kota Kinabalu Airport Extension | Specialist checker |
| Inspection on the anchored sheetpile at the Makmak Veterinar, Kawasan Selatan Johor Bahru, Johor | Review on the safety of anchored sheet pile |
| Cadangan Kerja Tanah untuk mendirikan 77 unit rumah teres dua tingkat di MK12, Jalan Permatang Damar Laut, DBD, Pulau Pinang | Expert advice on the failure of RC Wall |
| Independent Consultant to Investigate Failure of Retaining Wall for 130 units of Terraced Townhouses at the Sunway Damansara Township in Kota Damansara, Selangor – Independent Geotechnical Investigation | Geotechnical investigation of wall failure |
| Soil Treatment for Boubyan Seaport Project, Kuwait | Geotechnical design of ground treatment for highway & railway |
| Cavity & Sinkholes Treatment & Monitoring of Ixora Apartments – Geotechnical Monitoring Interpretation Report | Geotechnical monitoring interpretation of cavity and sinkholes treatment |
| Proposed development of link houses between Jalan Wangsa 9 & 11, Kuala Lumpur | Full Geotechnical Consultant for Hill-Site development |
| Proposed Hostel for Anak Yatim in Seremban (VOLUNTARY) | Full Geotechnical Consultant for Foundation |
| Cadangan Mendirikan Sebuah Kilang Setingkat Bagi Mengisi Minyak Sawit Di atas Lot 15, Pulau Indah, Klang | Full Geotechnical Consultant for foundation |
| Redevelopment of Sultan Abdul Halim Airport, Alor Setar, Kedah | Expert advice for ground treatment of soft ground |
| Creek Marina Residential Development, Karachi, Pakistan | Alternative Foundation Design |
| Proposed Development in Lot PT 12176 (HS D07812) Block 16, Mukim Dengkil, Daerah Sepang, Selangr Darul Ehsan | Full Geotechnical Consultant for foundation |
| Port Klang Free Zone (PKFZ) – West Port Interchange | C&S & Geotechical consultant for interchange |
| Cadangan Pembangunan Perumahan di atas Lot-lot 62, 63, 961, 2451, 2452, 2140 & 2141 Mukim Kuala Lumpur, W. Persekutuan – Soil Investigation into the Movements of R. Wall | Geotechnical investigation on Retaining Wall failure |
| Cemetery at Semenyih | Geological terrain mapping |
| Proposed Hydragen Plant in West Port Klang, Pulau Indah KLK Oleomas | Full C&S, M&E, Goetech Consultancy |
| Proposed Mixed Development in Damansara Perdana on Lot PT44010, Lot 349, Mukim Sg. Buloh, Petaling Jaya, Selangor Darul Ehsan | Geotechnical consultancy for foundation, basement and slope stabilisation work for high rise structure |
| Proposed Residential & Commercial Development on Lot 4790 Jalan Paya Terubong, Mukim 13, Daerah Timur Laut, Pulau Pinang | Geotechnical review of hill-site development |
| Proposed Residential Development (Cheras 50 acres) on Lot PTD 4595 – 4599, Mukim Ampang, Selangor | Full geotechnical consultancy for infrastructure of hill-site |
| Third Party Rock Slope failure and damage to third party premises @ Talam Construction Site | Geotechnical investigation of rock slope failure |
| Proposed Paper & Pulp Mill at Kunak, Sabah | Alternative foundation design for industrial structure and machine foundation |
| Analysis of Tunnel Adjacent to Pylons | Independent analysis of influence of tunnel on Pylons |
| Commercial Development on Lot 4 and 4A Jalan Utara, Petaling Jaya | �Geotechnical consultancy for foundation, basement and slope stabilisation work for high rise structure |
| Design for the Remedial Works to Alleviate Softground problems at Four Locations North-South Expressway (KM63.8 to KM64.7) | �Geotechnical remedial works design for soft ground �mushroom� problem |
| Review of Exhibition Centre and Flyover at Precinct 5, PKFZ, Pulau Indah (Wijaya) | �Review of bridge & roof of exhibition centre |
| Proposed Trusan Regional Water Supply, Lawas, Limbang Division, Sarawak | �Geotechnical design of Tank foundation on soft ground |
| Proposed Giant Hypermarket at Bandar Sri Permaisuri, Cheras, Kuala Lumpur | �Geotechnical consultancy for foundation in mining land |
| Proposed Mixed Development on Approx. 105.091 acres at Lot 245 G10582, Asiatic Paya Rumput, Melaka | Full C&S & Geotechnical for housing development |
| Proposed Master Plan @ Lot 5798, Mukim of Kuala Kuantan | Full C&S & Geotechnical for hill-site development |
| Proposed Development On 82.44 Acres (Next to Taman Bukit Puchong), Mukim Petaling, Daerah Petaling (Mutiara Indah) | Full C&S & Geotech for hill-site development |
| Independent Checker for Proposed Remedial Works for Mosque in Klang | ICE for geotechnical remedial works |
| Checking of Tunnel Link Inferance on Prestressed Ground Anchor | Independent analysis of influence of tunnel on ground anchors of retaining wall |
| Ground Treatment for South Klang Valley Expressway | Geotechnical design of expressway |
| Cadangan Pembangunan Perdagangan Di Atas P.T. 4043 H.S. (D) 69970 Dam Plot C, Taman Pandan Mesra, Kampung Ampang Campuran, Mukim Ampang, Daerah Hulu Langat, Selangor Untuk Tetuan Keringat Global Development Sdn Bhd | Geotechnical consultancy for foundation design at mining land and limestone formation |
| Proposed Taman Beringin Landfill in Jinjang Utara, Kuala Lumpur | Geotechnical consultancy for landfill closure cover design and side slope protection work and alternative foundation design for leachate treatment plant |
| Cadangan Perumahan Pembangunan Bercampur di atas Tanah seluas 59.30 ekar, Mukim Bukit Raja, Daerah Petaling, Selangor (Geological Terrain Mapping) | Geological terrain mapping |
| Remedial Works for Distressed RC Retaining Wall at Mutiara Seputeh | Geotechnical consultancy for remedial work of retaining wall |
| Proposed Extension of Lumut Jetty | Geotechnical consultancy for Jetty Structure |
| Ground Settlement and Cracks at Wisma Perwira | Geotechnical investigation & remedial works for settlement of building due to tunnelling |
| Slope Masterplan Study | Master Plan Study for landslide loss reduction |
| Design and Supervision of Selected Slopes at KM55.35NB & KM55.60NB, Section S4, along North-South Expressway | Geotechnical remedial works design for slopes |
| Landslip / Subsidence Damage to Building in Lahad Datu, Sabah | Investigation of slope movement |
| Inspection of Embankment Failure at Phase 3B, Bandar Puncak Alam, Selangor Darul Ehsan | Inspection |
| Ukuran Aras dan Butiran, Di Atas Lot 2902 dan PT 675 (Sebahagian Lot 3290), Mukim Kedawang, Daerah Langkawi, Kedah Darulaman | Geotechnical consultancy for hill-site development |
| Chin Swee Caves Temple, Genting Highlands | Geotechnical investigation for landslide |
| Engineering Consultancy Service for Geotechnical for the 1.2 million Gallon on-Ground Water Reservoir and Earthworks (40 Acres) | Geotechnical consultancy for hill-site development |
| Bandar Nusaria Project (Show House) | Geotechnical consultancy for hill-site development |
| Bon Ton Villas, Langkawi | Geotechnical consultancy for soft ground engineering |
| Proposed Offshore Unloading Facilities for Desalination and Power Plants at Shuqaiq, Saudi Arabia | Geotechnical consultancy service on marine structure foundation design |
| Feasibility Study and Preliminary Geotechnical Consultancy for Hillsite Development next to Meru Valley | Geotechnical consultancy services for hillsite development |
| Cadangan Projek Pertanian di atas Lot 451, Mukim Ulu Telom, Cameron Highlands, Pahang | Geotechnical consultancy services for hillsite development |
| Cadangan Pembangunan Dua Blok Pangsapuri Mewah 27 Tingkat dengan Basement di Lot 269 Seksyen 63 Lorong Stonor, Kuala Lumpur | Alternative design for basement and foundation construction at limestone area |
| Proposed Failure Investigation of Wall Collapse | Geotechnical investigation and remedial design for distressed basement construction |
| Cadangan Pembinaan 224 Unit Rumah Teres Satu Tingkat Di Fasa 13E Di Atas Sebahagian Lot 51388, Bandar Bukit Raja, Mukim Kapar, Daerah Klang Utara, Klang | Geotechnical consultant for foundation design |
| Retaining Wall for Taman Desa Tebrau | Foundation design for reinforce wall structure at soft ground |
| Proposed Flood Mitigation and Maintenance Scheme for Lower Klang River, Basin, Selangor | Full Geotechnical Consultancy Services |
| Retaining Wall and Slope Inspection for K24 & K25, Mukim Kajang, Daerah Hulu Langat, Selangor | Slope Inspection to comply to JKR requirements |
| Independent Checker for Excavation of Pit at Mycron Steel combines tension levelling and skin-pass mill line | Independent checker for basement excavation |
| Cadangan Membina 39 Unit Rumah Kediaman Diatas Lot 1423, Mukim Kuala Lumpur, Wilayah Persekutuan (Meru Selekoh) | Investigation of stability of wall & slope |
| Lot 6117 & Part of Jalan Mulia 1/1, Mukim Hulu Kelang, Daerah Gombak, Selangor | Full Geotechnical consultancy services for hill site development |
| Proposed Development for Kota Kemuning Housing Project | Full Geotechnical consultancy services for housing development on soft ground |
| Geotechnical Investigation in Machinery Foundation Settlement for CMS Cement Plant at Bintulu, Sarawak | Investigation of settlement of machine foundation. |
| Proposed Development at Lot 2262, Mukim Kedawang, Daerah Langkawi, Kedah Darulaman | Feasibility study of hill site bungalow |
| Cadangan Membina dan Menyiapkan Jalan Dari Simpang 3 Jenderam ke Pekan Dengkil (B18), Daerah Sepang Selangor Darul Ehsan | Geotechnical Investigation of embankment failure and movement at soft ground |
| Proposed Mixed Development comprises of Parcel 1 (Axis Atrium), 2 (Axis Residence) and 3 (Axis Tower) | Alternative foundation design for foundation in limestone. |
| KVDT Tank Conversion Project at PS Pipeline, Dengkil, Puchong | Tank foundation design at Cut & Fill ground |
| Cadangan Merekabentuk, Membina dan Menyiapkan Kompleks Pasar Besar Baru Secara 'Design & Build' Di Mukim Peringgit, Daerah Melaka Tengah, Melaka | Geotechnical Investigation of foundation settlement at soft ground. |
| Geotechnical Investigation Remedial Works for Distressed Wall at Bukit Segar, Cheras, KL | Geotechnical Investigation of stability & reinforced soil wall and remedial design |
| Investigation into the stability of slope at Jalan Tebu, Ukay Heights | Geotechnical consultancy services for hill site development |
| Cadangan Perumahan dan Perniagaan melalui serahbalik dan kurnia semula (peringkat ke2) di atas Lot 4704, Mukim Simpang Kanan, Daerah Batu Pahat, Johor (Sri Gading) | Geotechnical Consultancy for soft ground engineering |
| Foundation Design for High Cost Condominium on part of Lot No. 82, Jalan Persiaran Golf, Saujana Resort, Seksyen U2, 40150 Shah Alam, Selangor Darul Ehsan | Full scope geotechnical consultancy for Jack-in foundation system |
| Proposed Mixed Development on Approximately 366 Acres at Kajang Height, Selangor Darul Ehsan | Geotechnical consultancy for fill site development |
| Cadangan Pembangunan 1 Blok Servis Apartment/Pejabat 33 Tingkat dengan 2 Tingkat Basement di atas Lot 682, 683, 604 – 607 & 611 – 614 Jalan Imbi, Kuala Lumpur | Dilapidation study and Geotechnical Consultancy for foundation and basement construction in limestone |
| Proposed Mixed Development on Lot 7525 & 7526 (212 Acres) at Cheng Estate, Mukim Kelemak, Daerah Alor Gajah, Melaka | Full scope Geotechnical for hill-site development |
| Setting up of Routine Slope Monitoring System� Along Section 2 of SILK Highway | Geotechnical assessment and early warning system for cut slope |
| Show Gallery, USJ Heights | Geotechnical consultancy for Foundation |
| Proposed 21 units Bungalow Development at Jalan Setiabistari, Damansara Heights, KL | Independent checking engineer for hill site development |
| Geotechnical Investigation And Remedial Works For Distressed Cribwall On Lot Pt 5425 (Parcel E) Of Bukit Segar, Cheras, Kuala Lumpur | Geotechnical investigation & remedial design for a collapsed crib wall |
| Investigation into the collapse of the silt trap and remedial works | Geotechnical Investigation |
| Proposed Residential Development Consisting Of Two Blocks Of Highrise Residential Towers With Three-Levels Of Basement At Jalan Tun Razak, Kuala Lumpur | Geotechnical Advice |
| Site Inspection of 59 Units of 1 1/2 Storey Shoplots at Melati Square, Nilai, Negeri Sembilan | Geotechnical Inspection |
| Slope stability at new campus of Universiti Teknologi MARA | Geotechnical Investigation into stability of slopes |
| Country Heights, Damansara, Selangor Darul Ehsan | Remedial works for slopes |
2005
| | |
| --- | --- |
| Project Name | Scope |
| Independent Review Into the Collapse of the Rubblewall and Main Drain at Rawang | Investigation on causes of Collapsed Drain |
| FEM Analysis of Smart Tunnel Shaft Concrete Cover | Numerical Analysis of Tunnel |
| Geotechnical Review for Slope Stability of A9 Road & RE Wall, Damansara Perdana | Slope Strengthening on cut slope and RS wall foundation |
| Geotechnical Review for Rectification Works on Eroded and Rectification Works at Damansara Perdana | Slope remedial works on localised erosion |
| Geotechnical Review on Stability of Rock Slope at Damansara Perdana | Geotechnical assessment and strengthening of rock slope |
| Proposed Steel Plant (DRI/HBI) at Banting | Piling foundation and soft ground treatment for industrial structure |
| Cadangan Membina Dan Menyiapkan Pangsapuri Servis 32 Tingkat (100 unit) Di Atas Lot 206, Jalan Binjai, Seksyen 63, Bandaraya Kuala Lumpur Untuk tetuan Amity Binjai Sdn. Bhd | Foundation and Tender design for high rise at Kenny Hill formation. |
| Site Inspection of PGB Stations in Gurun, Setiawan and Port Klang. | Inspection on distressed metering station |
| Remedial Works of PGB�s NPS 18 Lateral Pipeline at KP 11.5 Monsoon Drain Crossing, Tg. Langsat, Pasir Gudang, Johor | Remedial Design on Eroded Drain |
| Site Inspection for Telecommunication Monopole in Cyberjaya | Site Inspection Report |
| Karachi Port Tower Project in Pakistan | Full Geotechnical Consultancy |
| Expert Opinion on settlement and cracks on building extension at Shah Alam (Kota Kemuning Township) | Expert Opinion |
| Expert Opinion on settlement and cracks on building extension at Shah Alam (Kota Kemuning Township) | Expert Opinion |
| Cadangan Pembangunan Perumahan yang Mengandungi 144 unit Rumah Teres Kos Sederhana Rendah 1 1/2 Tingkat (18′ X 60′) Fasa 1A dan 1 Unit TNB diatas Zone 41, Bandar Indahpura, Mukim Senai, Kulai, Johor | Alternative design on foundation system |
| Cadangan Pecahan Sempadan untuk Pembangunan Kediaman dan Perdagangan di atas Lot 826, Jalan Damansara, Mukim Batu, Kuala Lumpur | Routine Maintenance and Engineer Inspections |
| Soil Investigation Works for Proposed Chung Hwa School in Kota Kemuning, Shah Alam | Soil Investigation Works |
| Engineering Consultancy Service for North-West Corner (66.88 Acres), Damansara Perdana, Kuala Lumpur | Full scope consultancy for hill-site development |
| Proposed 20 storeys high end condominiums on Lot 98, 6 Jalan Stonor, Kuala Lumpur | Review of foundation and basement excavation |
| Cadangan Pembangunan yang mengandungi A) 30 Unit Rumah Berkembar 3 tingkat dan 1 unit rumah pejabat pengurusan 3 tingkat berserta pencawang TNB dan Ruang Mekanikal dan Elektrik di atas Lot 2360, Mukim Batu, Kuala Lumpur | Review of hill-site development for semi-detached houses. |
| Geotechnical Assessment on Slope Stability of entire HR1 Road (500M), Damansara Perdana | Slope stability assessment |
| Proposed Bungalow at 12 Lorong 16/6B, Petaling Jaya | Foundation design |
| Proposed MAS A-380 Hangar/Workshop Facilities and Associated M&E Works at MAS Complex, Kuala Lumpur International Airport | Foundation review and value engineering |
| Investigation of Cracks on Rubble Wall for Desa Parkcity Development | Investigation into the cracks on rubble walls |
| Proposed Sg Takan Bridge at KM 1 + 000 Jalan Takan / Tekalit, Song, Kapit Division, Sarawak | Investigation into the stability of the bridge pier |
| Pulau Indah Transshipment Mega Hub | Investigate into driven spun piles breakage |
| Proposed Bridge Over Pulau Indah Point Interchange | Full scope interchange design |
| Proposed Condominium Development Consist of 2 Condominium Towers and 2 Blocks of 5-Storey Car Park (including Basement) with Recreational Facilities and Commercial Elements (MK10) for Sunrise Quality Sdn Bhd | Full scope geotechnical consultants for foundation for highrise on slopes |
| Proposed Coastal Reclamation Works for About 3300 Acres At Pulau Carey | Full Scope Geotechnical Consultancy |
| Proposed Show Village at MK22 P.T. No. 1891, Jalan Segambut, Kuala Lumpur for Sunrise Berhad | Full Scope Geotechnical Consultancy |
| 2.34 Acres, Damansara Perdana | Full Scope Geotechnical Consultancy |
| Proposed Development At Seputeh Heights (Vasana 25) | Full Scope Geotechnical Consultancy |
| Proposed Hume Bebo Arch for Air Craft Shelter At Pasir Puteh, Kelantan | Alternative Design of Foundation for Arch Only |
| Proposed Development for Zone 33A And Kulai Garden, Indahpura, Mukim Senai-Kulai, Daerah Johor Bahru, Negeri Johor Darul Takzim for Messrs Asiatic Land Development Sdn Bhd | Full Scope Geotechnical Consultancy |
| Independent Geotechnical Reviewer to the Design of Remedial Works to Hill 8 of Section C1. | Geotechnical Review of Hill-Site Development. |
| Proposed 80ft. road next to Solaris Dutamas, Sri Hartamas, Kuala Lumpur. | Geotechnical Consultant for Road works on slopes. |
| Proposed bungalow at plot 21 & plot 22 at Country Heights Golden Horse Resort. | Geotechnical Consultant for Bungalow |
| �Cadangan pembangunan satu blok servis apartment/pejabat 33 tingkat dengan 2 tingkat basement di atas lot 682, 683, 604 � 607 dan 611 � 614 Jalan Imbi, Kuala Lumpur. | �Geotechnical due diligence for project. |
| �Cadangan pembangunan perumahan di atas lot 2259, mukim semenyih, daerah hulu langat, selangor. | �Geotechnical Review of Hill-Site Development. |
| �Current compaction practices on buildings and road works for JKR projects. | �R&D for earthwork compaction. |
| �The Residence at Mont� Kiara, mukim batu, kuala Lumpur for Sunrise Bhd. | �Geotechnical Consultancy service for bungalow development. |
| �Independent consultant to investigate distress on bridge abutment A across Sg. Kundang at km156 and bridge abutment B across Sg. Jempul at km158.5 east coast expressway (ECE). | �Geotechnical investigation on causes of distress of abutments. |
| Cadangan pembangunan fasa 3 yang mengandungi 41 unit rumah Bandar 5 tingkat, 193 unit rumah kondominium dan 1 unit rumah kelab, di atas lot PT6594, jalan 19/70A di taman sri hartamas, mukim kuala Lumpur untuk tetuan sunway D�Mont� Kiara Sdn. Bhd. | Alternative Geotechnical design for reinforced soil wall structure. |
| Alternative design for rubble wall at section 1 for the proposed development on lots 48572 � 48587, 48590, part of lots 48588 & 48589, mukim batu, kuala Lumpur. | Geotechnical design for rubble wall design. |
| Cadangan pembangunan bercampur di atas tanah bekas hutan simpan ulu gombak (seluas 204 ekar), mukim batu, daerah gombak, selangor darul ehsan. | Geotechnical consultants for Hill-Site development. |
| Cadangan pembangunan bercampur di atas tanah bekas hutan simpan ulu gombak (seluas 204 ekar), mukim batu, daerah gombak, selangor darul ehsan. | Geotechnical consultants for Hill-Site development. |
| Proposed Batang Lebaan Bridge � Geotechnical consultancy service for alternative foundation design (Pakej I & II). | Geotechnical alternative design of foundation. |
| Cadangan pindaan kepada pelan tatatur yang telah diluluskan bagi pembangunan perumahan lot 449, mukim hulu kelang, daerah gombak. | Geotechnical report for hill-site development. |
| Proposed mixed development for the new �Kastam Diraja Malaysia� headquarters, Penang. | Geotechnical consultants for buildings on soft ground. |
| Proposed development of 169 units of high cost condominium at lot no 82, Jalan Persiaran Golf, Saujana Resort, Seksyen U2, 40150 Shah Alam, Selangor. | Alternative design of bored pile foundation. |
| Proposed Bayu Development at Bukit Rimau, Selangor Darul Ehsan. | Full Geotechnical consultancy. |
| Cadangan pembangunan bercampur di atas sebahagian lot 18337 (PT8594) (Plot C), Mukim Tanjong 12, daerah kuala langat, selangor untuk tetuan PNSB dan tetuan Jatidiri Gigih Sdn. Bhd. | Geotechnical investigation. |
| Preliminary Geotechnical Assessment on investigation into cracks on 6 blocks of apartments. | Geotechnical investigation. |
| Soil Slope Investigation. | Geotechnical investigation. |
| Review of pile foundation at proposed two blocks of 19 storey apartments on Lot 64592, Mukim Petaling, Selangor. | Review of piling problems in limestone. |
| Bungalow Walls at Bukit Istana, Klang | Geotechnical Review of Retaining Wall. |
| Cadangan Pecahan Sempadan dan Kenyataan Lot Tanah Pt1329 – PT1340, Lot45232, Lot45233 & Lot 45234 Jalan Batai Barat, Bukit Damansara, Mukim Kuala Lumpur, Wilayah Persekutuan Untuk Tetuan Changkat Kiara Sdn Bhd | |
| Silver Bird Complex, Ground Subsidence | Site Inspection. |
| Proposed bungalow development on Lots 564 & 565 Mukim Hulu Klang, Daerah Gombak, Selangor | Full Geotech Consultancy for Hillsite development. |
| Starhill Centre � Insurance | Geotechnical investigation of structural distresses due to ground movement. |
| Proposed Development of One Bock of 34-Storey Condominium on Lot 114, 115, 116 & 117, Jalan Law Yew Swee, Kuala Lumpur. | Review of Foundation. |
| Expert Opinion on issues related to the compaction of sand. | Geotechnical advice on computation of Sand-fill density. |
| Cadangan kajian, merekabentuk, membina dan menyiapkan sistem saliran di Kampung Chetty dan kawasan sekitarnya, Bandaraya Melaka Bersejarah. | Tender Design |
| Lot 5 & 52 of Taman TAR | Full Geotechnical for bungalow lots |
| Consultancy for EPCC of C&S and Mechanical & Piping Works fro Redline I & II (Package IIC) at PASB, Kerteh | Foundation Design of on Shore Structures |
| Investigation support for Pangkor Landslide | Geotechnical Investigation & Remedial works on slope failures |
| Subsea Facilities at Port Klang | Foundation design for plant |
| Mix Development at Lot 1458, Mukim Cheras, Daerah Hulu Langat, Selangor Darul Ehsan for Messrs. Tetuan Dawang Sdn Bhd | Full Geotechnical Consultancy on Hillsite Development |
| | |
| | |
2004
| | |
| --- | --- |
| Project Name | Scope |
| Proposed Mixed Development in George Town, Pulau Pinang (ESCOY) | Geotechnical Consultancy for Mixed Development with Basement on Ex-Mining Land in Penang |
| Geotechnical Infrastructure for Bandar Mesra Ilmu Tronoh – Siputeh, Mukim Blanja and Mukim Sungai Terap, Daerah Kinta, Perak Daruk Ridzuan | Geotechnical Consultancy for Housing Dev on Ex-Mining Land |
| Bridge Across Plus Highway at Bernam Jaya – Proposed Alternative Ground Treatment Design. | Alternative Ground Treatment Design for Bridge Approach. |
| Geotechnical Review for Semi-D, Bungalow, Link Houses and Apartments – Taman Sri Bukit Indah, Bukit Mertajam | Geotechnical Review for Slopes |
| Geotechnical Consultancy Service at Damansara Perdana, North West Corner | Geotechnical Consultancy for Hillsite Development |
| Proposed 3.56 acres Mixed Development at Damansara Perdana – Geotechnical Investigation & Strengthening Design for Basement Wall Construction | Geotechnical Investigation and Remedial Design for a Steep Cut Slope |
| Investigation of Slope Failure for Bungalow at Taman Yarl | Geotechnical Investigation of Slope Failure |
| Geotechnical Consultancy Service for Foundation Design for PDB Langkawi Tank Foundation | Geotechnical Tender Design for Tank Foundation |
| Proposed Industrial Park Dev for Factories at Lot 2423 at Tanjung Pelepas, Mukim Tanjung Kupang. | Geotechnical Consultancy for Factories on Reclaimed Soft Ground |
| Proposed 22 units Luxury Apartments on Lot 40397 & 40398, Jalan Medang Serai, Bkt Bandaraya, KL | Geotechnical Review of Temporary Works |
| Strengthening Of Rock Slopes At Ramp H (Ch575-Ch635) | Independent Checker for Rock Slopes Strengthening Works |
| Cadangan Jalan Masuk dan Keluar Melalui Lebuhraya Kesas ke "Centre of Excellence" di atas Lot-Lot 46908 & 46909 (Pt No. 299 & 300) Mukim Damansara | Geotechnical Design of Road Extension on Soft Ground |
| Proposed Forest Resort Development on Approx.� 142 acres, Mukim Rawang,� Daerah Gombak, Selangor | Geotechnical Consultancy and Road Network / Platform Design for Hill-Site Development |
| KLHC Suit No. S1-22-172-2000 between Sg. Wang Plaza S/B and Low Yat & Sons Realty S/B & 3 others | Expert Opinion on Deep Excavation |
| Proposed development of 4 blocks of apartment on Lot P.T. 107, Parcel Q, Jalan Perhentian, Sentul, KL | Geotechnical Consultancy for Foundation in Limestone |
| Proposed Development on Lot 1869 (MK23) | Geotechnical Consultancy for Highrise Development |
| Expert Opinion for the case between Negara Properties Sdn Bhd and Cygal Sdn Bhd & Six Others | Expert Witness on the collapse of the semi-detached house at Taman Melawati |
| Cadangan Membina dan Menyiapkan Apartment Kos Sederhana Rendah di atas Sebahagian Lot 1929, Fasa 3, Bandar Baru Puncak Alam, Mukim Ijuk, Daerah Kuala Selangor | Expert Witness on the cracks to 5-storey Apartment in Selangor |
| Cadangan Pembangunan 3 Blok Apartmen dan Podium Letak Kereta bagi Fasa 1B diatas Lot P.T. 36234, Sungai Buloh | Alternative Foundation Design |
| Cadangan Pembangunan Bercampur di atas PT46875 & 46876 Seluas 314 ekar, Mukim Kapar, Daerah Klang | Geotechnical Consultancy for 314 acres of housing development on very soft ground |
| Proposed Mixed Development on 16.05 Acres on Part of Lot PT 31431, Mukim Sungai Buloh, Daerah Petaling, Selangor Darul� Ehsan | Alternative Scope Strengthening Design |
| Proposed Commercial Development Consist of 20 Blocks 5-18 Storeys Shop Office/Office Suite, 2 Open Commercial Elements and 1-4 Storey Car Park (Solaris 2) for Sunrise Alliance Sdn Bhd | Geotechnical Development on Mixed Development of 17 acres |
| Proposed New Sanctuary for Klang Chinese Methodist Church | Geotechnical Consultancy for foundation & retaining wall design |
| Independent Geotechnical Review of Excavation of One MRT Station (OAR) at Alignment C823 | Independent analysis of deep excavation |
| Professional Geotechnical Engineering Consultancy Appointment for the Proposed Construction of a Warehouse and Corporate Office At Lot PT 57332, Taman Berjaya, Seksyen 32, 40460 Shah Alam, Selangor Darul Ehsan | Geotechnical consultancy for foundation design on soft ground |
| Proposed Development on Lot 49370 (PT 15139) and Lot 49371 (PT 15140), Mukim of Petaling, Daerah Petaling, Selangor Darul Ehsan | Geotechnical Review of platform stability on ex-mining pond |
| Strengthening of Rock Slopes At CH17100 – CH. 17175 Only (Exclude Soil Slopes) | Design of rock strengthening measure |
| Cadangan Pembangunan Bukit Perdana Di Atas PT 13430, 13432 Dan 13429, Mukim Ulu Kelang, Daerah Gombak, Selangor Untuk Tetuan Cermat Jaya Sdn Bhd | Independent Checker for hill-site development |
| Expansion of Royal Brunei Naval Base, Muara Package 'C' – Piling, Deck & Shiplift Main Contract | Independent opinion on pile foundation |
| Slope Instability At Meru Valley, Ipoh | Geotechnical investigation on remedial design for slope instability |
| The Proposed Hilltop Bungalows Development At Damansara Perdana | Geotechnical consultancy for hill-site development |
| Proposal for Provision of Engineering Consultancy Services for Proposed Bungalow on Plot 275, Mukim of Damansara, District of Kuala Lumpur, Wilayah Persekutuan | Geotechnical consultancy for bungalow on hill-site |
| Cadangan Pembangunan Rumah Link 2 Tingkat di Kg. Tasek Permai, Seksyen 15, Bandar Ampang, | Geotechnical Consultancy for Hill Site |
| Proposed Sports Complex, Negeri Terengganu At Gong Badak, Terengganu | Geotechnical Review on the proposed foundation remedial work |
| Construction and Completion of Submarine Water Pipelines, Watermains at Road R2 (Interchange No. 3 and Southern Chainage) and Other Contingency Waterworks for Pusat Pentadbiran Persekutuan Putrajaya, Selangor Darul Ehsan | Investigation of crack of pipes |
| Great Eastern Phase 2 & 3 | Geotechnical Design of foundation |
| Independent Review into the Collapse of the Rubble Wall and Main Drain at Phase 14B, Bukit Sentosa 2 | Geotechnical Investigation of a collapsed monsoon drain |
2002 - 2003
| | |
| --- | --- |
| Project Name | Scope |
| Kajang Traffic Dispersal Ring Road – Interchange H: Mining Pond and Surround (CH2080 – CH2340 and Sg. Ramal Bridge Approaches (CH610-CH780 and CH840 – CH920) | Alternative value engineering ground treatment design. |
| Proposed Phase 1 (low cost) Development of Lot PT 10177 – PT10182, Mukim Ampang, Hulu Langat, Selangor | Alternative foundation design. |
| Batu Gajah Railway Development – KTM (Phase 1) for EMU Depot & Yard | Geotechnical planning & conceptual design. |
| Design for the Remedial Work to alleviate softground problems at KM58 Alor Setar (S) to Sg. Petani (S) Expressway, Section N2 | Remedial design for soft ground mushroom effects using 3D-FEM analysis. |
| Pengkalan Kastam Merin, Sg. Pulai, Tanjung Kupang, Johor | Geotechnical design of sheet pile retaining structure in river front of marine deposite. |
| Proposed development of house shops & 5-storey office lots with basement on Lot PT41, Seksyen 54, Bandar Kuala Lumpur Wilayah Persekutuan for Sritamas Sdn Bhd | Geotechnical consultancy for basement excavator and foundation in lime stone foundation. |
| Proposal for Turnkey Project, PT. Multigambut Industri, Riau, Sumatera , Indonesia | Geotechnical consultancy of geotechnical design for palm oil mill over alluvial deposite. |
| Geotechnical Consultancy for Site Inspection of Wisma CycleCarri, Wisma Weld and Bintang Pantai Condo, Kuala Lumpur | Inspection of Building over hillside for Insurance company's requirement. |
| North-South Expressway- The Design for The Remedial Works to Alleviate Softground Problems (Mushrooming) at KM46.7 and KM71 of the North South Expressway, Section N2 | Engineering research on the use of shallow RC raft remedial to Mushroom effects of soft ground. |
| Proposed Bridge over Sg. Kerang for Ladang Gemilang, Gedong, Sarawak | Foundation design for bridge and approach embankment over soft ground and river. |
| Ground Treatment to Double Tracking Project | Ground treatment design for double track rail projects for Ipoh to Padan Besar (328KM) |
| Proposed Development on Lots 2373 & 2374 (Parcel B), Bukit Kiara, Kuala Lumpur | Geotechnical designs for retaining structure slope stabilisation works and foundation design. |
| Proposed Kabong Police Station, Sri Aman Division, Sarawak | Geotechnical consultancy service for softground engineering and foundation. |
| Proposed housing development on Lot 2832, 2833, 2834, Mukim Cheras, Daerah, Hulu Langacct, Mukim Dengkil, Daerah Sepang, Selangor | Geotechnical consultancy in pound reclamation and foundation design for residential development |
| Proposed 16 tanks at Petrochemical Jetty, Westport , Port Klang | Geotechnical consultancy for tank foundation in reclaimed land over soft marine deposite. |
| Proposed Low and Medium Cost Apartment at Jinjang Utara, Kuala Lumpur | Geotechnical consultancy for foundation design & ground treatment at ex-landfill |
| The Proposed 3 units of 4-storey shop office on Lot 947, 948, 949, 950, 1138, 1139, 1140, 1141, Sek. 62, Changkat Thamby Dua, KL | Geotechnical consultancy for Jack-in foundation design in lime stone area. |
| Proposed Development of 2-Storey Medium Cost Terrace Houses (Phase 1C), Water Tank & Related Works on Lot PT 15139 dan PT15140, Taman Tasik Prima, Mukim Petaling, Daerah Petaling, Selangor for Prima Nava Harta Development Sdn Bhd | Geotechnical consultancy for Jack-in foundation design in lime stone area. |
| Proposed development of a double storey bungalow on Lot 39967 , 39968 , 39969 and 39970, Mukim Batu, Kuala Lumpur | Preliminary geotechnical design of foundation design. |
| Proposed 6 units of Bungalow Comprises of Lots B176, B180, C218, C228, C231 & C235 at Bukit Tinggi Resort, Mukim of Bentong, Pahang | Geotechnical investigation and slope stabilisation works for bungalow development at hill-site. |
| Proposed redevelopment on Lot 164 & 759, Seksyen 6 & 9, Bandar Kota Bharu, Kelantan Darul Naim for Finconsult Sdn Bhd and Perbandaran Kemajuan Iktisad Negeri Kelantan | Geotechnical consultancy service for frictional piled foundation design at alluvial desposite in river bank. |
| Geotechnical investigation into collapsed of 11 berm slope at CH15+425 to CH15+700, Package 4B, Simpang Pulai-Lojing-Gua Musang Highway, Kelantan | Geotechnical investigation on collapse of high road cut slope. |
| Proposed 10 units of Bungalow on Lots B29, B31, B35, B36-B39, B42, B44, C8 at Bukit Tinggi Resort | Geotechnical investigation and slope stabilisation works for bungalow development at hill-site. |
| Kuala Lumpur – Putrajaya Dedicated Highway | Geotechnical ICE for the Expressway. |
| Geotechnical investigation and remedial works for gas pipeline at Salak Tinggi, Selangor | Geotechnical investigation & remedial design of a debris flow callapse. |
| Proposed Luxury Condominium development of 112 units at Lot 96, Persiaran KLCC, Kuala Lumpur | Geotechnical consultancy service for 3 level basement & foundation design in Kenny Hill formation. |
| Proposed bungalow development on Lots 501, 502 & 503 Mukim Hulu Klang, Daerah Gombak, Selangor | Geotechnical consultancy service for hill-site development. |
| Proposed Development on Lot 55335 (106130), Mont Kiara (K6), Kuala Lumpur (Solaris) | Geotechnical consultant for the project. |
| Proposed Foundation System Design for the view project on Lots 3319, 3320, 3321, 3322, 3330, 4681, 4683, and 4684, MK 13, D.T.L., Jalan Sultan Azlan Shah, Penang for Ivory Villas Sdn Bhd (The View) | Alternative value engineering foundation design for the twin towers of Penang. |
| 197KM West Coast Expressway from Taiping to Banting. | Geotechnical consultant for the expressway. |
| Geotechnical Investigation into failure of sheet pile wall at Sentosa II, Bukit Beruntung, Selangor | Geotechnical investigation of collapse of main monsoon drain. |
| Slope Failure in Kupang, Kedah ( East-West Highway , Kupang to Gerik) | Geotechnical investigation on collapse of highway cut slope. |
| Geotechnical Investigation and Assessment on Embankment Stability and seepage, buoyancy for an Excavation | Geotechnical investigation of an embankment stability with a basement construction next to a pond. |
| Kiara Designer Suites | Located at Mont' Kiara, Kuala Lumpur, Kiara Designer Suites is one of the Sunrise Paradigm Sdn Bhd projects consisting of one block of 29-storey service apartment, one block of 6-storey car park with recreation facilities and commercial space, and 2-storey of service apartment on top of the car park. Cost of project is approximately 90 million. |
1999 - 2001
| | |
| --- | --- |
| Project Name | Scope |
| Berjaya Star City | Full Scope Geotechnical Consultancy. |
| Sungai Selangor Dam | Independent Checking Consultancy Rockfill Clay Core Dam Design. |
| 3 Blocks of 16-18 storey Building (948 units), Ampang, KL | Full Geotechnical Consultancy Service on Foundation in Limestone. |
| PSI-Instun/ PSI-ITM Perak/ PSI-ITM Johor/ PSI-ITM Melaka/ PSI-ITM Sarawak/ PSI-Labuan Matriculation/ PSI-ITM Sabah | Full Geotechnical Consultancy Service on Geotechnical Work. |
| Tawau Airport Sabah | Independent Review on Expensive Subgrade Compacted Material on Runway. |
| Independent Review Into the Collapse of the Rubblewall and Monsoon Drain at Block A of 5-storey Apartment, Phase 1DA of Sentosa II, Bukit Beruntung, Selangor | Forensic Investigation on Collapsed Rubble Wall on Top of RC Monsoon Drain. |
| Design, Construction & Commissioning of Kolej Matrikulasi & Associated Facilities on Lot 137664, Gopeng, Perak | Full Geotechnical Consultancy Service on Geotechnical Work |
| Design, Construction & Commissioning of Kolej Matrikulasi & Associated Facilities on Lot PTD 16944, Tangkak, Johor | Full Geotechnical Consultancy Service on Geotechnical Work |
| Proposed UiTM Branch Campus, Arau Perlis | Full Geotechnical Consultancy Service on Geotechnical Work |
| Cyberjaya Phase 2 Mixed Development | Overall Planning of Earthworks. |
| Consultancy services for the study of settlement problem along the first 1.2km of Jalan Kundasang Golf Course, Sabah | Forensic Investigation of Massive Creep Moment of Post Glacial Desposive. |
| Kuantan Kerteh Railway Project | Geotechnical Alternative Design for Railway Embankment. |
| Proposed 400 units – 2 blocks of 5 storey Low Cost Apartments at Lot 36234, Mukim Sungai Buloh, Daerah Petaling, Selangor Darul Ehsan | Full Geotechnical Consultancy on Foundation Design at Granitic Formation. |
| Batu Gajah Railway Development – KTM | Geotechnical Planing & Conceptual Design. |
| Kolej Matrikulasi Pahang | Full Geotechnical Consultancy Service on Geotechnical Work. |
| Kolej Matrikulasi Kedah | Full Geotechnical Consultancy Service on Geotechnical Work. |
| Jica Slope Study for East-West Highway Slopes. | Geotechnical Study of Slopes & Instrumentation Monitoring. |
| Geotechnical Consultancy for 22.55 Acres Affordable Homes at Damansara Perdana, Selangor (Flora Damansara) | Geotechnical Consultancy for Highrise Residential Block at Hill-Site |
| Construction of Six Blocks of 16-18 Storeys 1896 Flat Units and Related Works for "Program Perumahan Rakyat" at Bukit Jalil 1, Mukim Wilayah Persekutuan, Kuala Lumpur. | Geotechnical Consultancy for Highrise Residential Blocks at Sedimentary Formation. |
| Damansara Perdana, 5.14 acres Mixed Development | Geotechnical Consultancy for Geotechnical Work for Highrise Residential Development. |
| Geotechnical Investigation on Wall Stability with Cut Slopes by Adjacent Development and Water Tank on Blasted Rocks and Consultancy Services for the Strengthening Works | Geotechnical Investigation & Remedial Work for Blast Damage Rocks foundation for Water Storage Tank. |
| Geotechnical Expert Opinion for Slope Failure at UTM Skudai, Johor Bahru | Forensic Investigation & Remedial Work for a Collapsed Slope. |
| Sekolah Kebangsaan Taman Bersatu, Mukim Teluk Kechai, Kedah | Geotechnical Consultancy for Soft Ground Engineering. |
| Geotechnical investigation into failure to bungalow and wall collapsed behind bungalow at Zone 7, Bukit Beruntung, Selangor | Forensic Investigation of a Distressed Bungalow Near to a Collapsed Wall. |
| Geotechnical Investigation into Landslips Failure Adjacent to Taman TAR Development | Forensic Investigation & Remedial Works of a distressed Slope Behind a Residential Apartment. |
| Proposed Development of Two Blocks of 30-Storey Condominium with 345 Units and 1 Block of Carpark and Recreational Park on Part of Lots 21745, 21746 & 21747 Mukim Batu, Kuala Lumpur for Sunrise Berhad (MK8) (Mont' Kiara Aman) | Full Geotechnical Consultancy Scope. |
| Proposed construction and completion of Light Rail Transit Infrastructure works and central boulevard package at Precint 3 of the Putrajaya Core Island Dev. Package LRT-Blvd – Alternative Design | Alternative Support System for 17M CBP Pile Wall for Cut & Cover Tunnel Construction. |